Creating content is an essential part during the development of any business, and if you're looking for ways to promote brand awareness and increasing engagement with new customers, creating quality content should be a top priority on your business strategy plan for 2016.  In this blog, I'm going to give you three helpful content creation tips that your business can use to start promoting your brand today.
Before we dive into the process that is creating content, it's important for you to realize that content comes in many different forms. It can be blogs, newsletters, social media posts, emails, videos, podcasts, and just about anything that other people see with your company's logo on it. With that said, don't overwhelm yourself by thinking you need to start creating all these examples today. Take the time to evaluate where your business stands in terms of your current content creation. What are you doing already and are there any of these examples that would fit your business?
#1 – Start!
If you've just starting out, one of the best pieces of advice that I can give you is to start spreading the word about your business. This means start writing and posting material about your products/services to help spread awareness and draw attention to your business. As you begin to create different forms of content, whether it's social media posts or blogs, you'll begin to hone your skill and recognize your ideal customer audience.
Take advantage of social media by creating a business page and separating your business life with your personal life. Our Digital Specialist, Ashley Eining, explains why maintaining a professional image on Facebook can boost your customer interactions in our free whitepaper. Click below to read.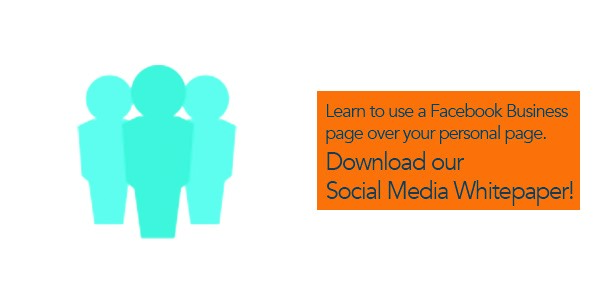 The power of blogs shouldn't be understated either. No matter what industry your business is in, blogs are a great way to increase awareness about your industry and voice the personality of your business. Make your blog posts relevant to the wants of your customers. Ask yourself, "What do my customers care about?"
Can't think of topics to write blogs about? Try turning to your email outbox for answers. If you're spending the day answering similar questions to clients, write a blog on that topic and include popular questions and answers to make the posts relevant to your customers.
Check out these related blogs for even more information about managing your business through social media and blogs.
You hear it a lot, "You need to be unique on social media! Stand out from the crowd!" But it's easier said than done. It can be hard for some people to tap into their creativity  and develop a quirky, unique way to make people stop scrolling and read their posts.
One of the many opportunities we have at KeyMedia Solutions is writing blogs. This is not something I do very often, but am happy to have this opportunity. With a graphic design and marketing background, I'm not a writer. So, when I get the opportunity to write something, I write what's on my mind.
#2 – Speak to Your Audience
In order for your new content to resonate with customers, you have to tailor what you're sending out to speak to a specific group of people. No matter what industry your involved in, there will always be a particular audience that is more likely to convert sales. These are the people your content should connect with.
Read our Account Coordinator, Travis Entenman's blog to help you decide who your target audience really is.
Pete is browsing the web. He's not looking for anything specifically; creeping on Facebook, reading local news, checking email. But, next thing he knows, he's being served ads for hotels in the Boston area. Why is that? He doesn't live anywhere near Boston. He doesn't even like the Red Sox.
Once you've figured out what your ideal audience looks like, the next step is to keep them engaged with your content. There are different ways that you can go about doing this, but here a couple of ideas that are simple and effective when trying to create interesting content.
Write for the future
What I mean by this is create content that will last. Informational blogs or videos are great to have in your archive because they'll always be educational to customers looking to learn more about your business or industry. These pieces can be referenced again and again to increase engagement with new customers.
Involve different perspectives
Another easy way to spread awareness is by having different members of your team help in the creation process. Here at KeyMedia Solutions, each member of our team gets to write a blog about a topic they find interesting. This helps us not only create usable content, but it's also a way for our followers to get a different perspective on our industry and the people on our staff.
Check out our Account Coordinator Nolan Webb's blog "Social Media and Cigars" to see how his hobby helped him learn more about social media.

Sometimes a Post is Just a Cigar Trying to tell the difference between all the different social networks reminds me of the time I wanted to buy a cigar. My friend just had his first child and I wanted to share with him the old tradition of smoking a cigar to celebrate.
 #3 – Be Consistent 
As straight forward as it sounds, being consistent with your content production is a crucial part on gaining a following with your business. Staying relevant with your social media posts and staying consistent with the days you post blogs can create anticipation or the "What's next?" feeling from your followers.
To help you stay consistent, start a content calendar and plan out who and when your content will be made live. This will keep your team organized and present a professional appearance to your customers.
Start Creating Content
Whether your idea of content means videos, blogs, podcasts, or social media posts, these tips will help you increase the connection between what you produce and your ideal customer. I've also included my two part blog series on finding your company's voice below for you to learn more helpful tips on growing your following.
Because the Irish author, James Joyce, was nearly blind, he wrote the majority of the novel, Finnegan's Wake, laying on his back, in bed, with a blue crayon. John Steinbeck, author of many classic novels including Of Mice and Men would always keep exactly 12 sharpened pencils at his desk while writing.
Welcome to the second edition to my series on developing a company's voice and tone. Part one of this series focused on the targeting of audiences and understanding the functionality of a business' voice and tone.