The relationship between businesses and Facebook has gone through a lot of changes in 2018. One of them was the significant reductions in organic visibility for brands and business pages, but this doesn't mean that there aren't ways to get through to a target audience. Facebook Advertising encompasses very strategic and powerful advertising solutions for any business goal.
As Facebook continues to evolve and put the user experience first, it will become more important than ever to utilize Facebook's paid advertising features to stay ahead. Whether you've been running Facebook ads for years, or don't even know where to begin, these three tips will help make the most out of your advertising dollar, and hopefully set you up to better achieve your business goals.
First – The Facebook Pixel
Facebook describes the Facebook Pixel as 'a piece of code for your website that lets you measure, optimize, and build audiences for your ad campaigns'. Once your pixel is placed, your website visitors will trigger cookies which will track those visitors as they interact with your website.
Here are a few ways you can harness the data collected by your Facebook pixel tracking to improve your ad campaigns.
Conversion Tracking: One of the most beneficial uses of the Facebook pixel is detailed conversion tracking, especially across multiple devices. If someone sees your ad and then visits the site to complete a purchase, you'll be able to see that sales attribution, even if they switched devices at some point in the process. As the pixel builds up and tracks more and more conversions, you'll then be able to specifically run campaigns to strategically show to people more likely to convert based on previous actions.
Dynamic Remarketing: Have you ever visited a website and looked at a product, only to see that same product in an ad about one hour later on Facebook? Dynamic remarketing allows you to custom-tailor your advertising based on your website visitor's actions on site. You can use the pixel to track exact products visitors are viewing and serve them ads encouraging them to check out. If you have a business that doesn't necessarily have products listed on the website, you can still use the pixel to run more strategic campaigns though custom-audiences. This may include serving ads to people who signed up for your newsletter, stayed on site for a certain amount of time, or have visited your site a certain amount of times in a given time frame.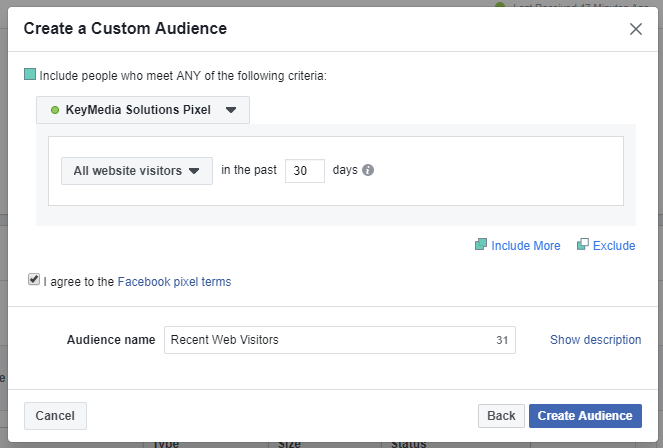 Look-a-Like Audiences: Not sure who to target with your Facebook campaigns? The Facebook pixel is also a great resource for brands looking to expand their current customer list. Look-a-like audiences take the likes, interests, and demographics of people who are already interacting with your website and finds people with similar traits to help expand your customer base.
Overall the Facebook pixel will allow you to run effective ads by improving the targeting of the people who see them and ensuring that the people seeing and visiting your website from your ads are those most likely to take action. Not sure how to set up your pixel, visit Facebook's business help center.
Second – Facebook Audience Insights
Similar to the Facebook Pixel, Facebook Audience Insights gives you information that will help you craft strategic messaging as well as find campaign targeting options. Audience Insights gives you information about three groups of people: people connected to your page, people on Facebook, and people in your Custom Audience (created with the Facebook pixel).
This information helps you find things like:
Demographic Overview: Find the age, gender, education level, job titles, and relationship status of a specific group of people.
Interests and Hobbies: Find out what your page followers or potential ad audience are interested in. This also includes third-party information like product purchase intent.
Lifestyle: Audience Insights also provides details about family size, location, and income to illustrate the people who may be interested in your business.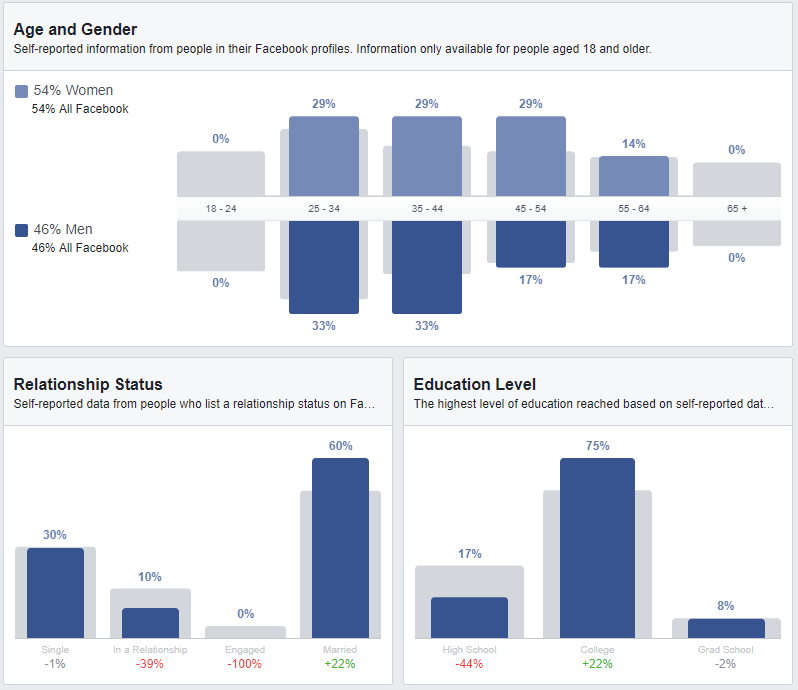 A brand may use Audience Insights to get an idea of their current page followers to craft messaging to better engage those people organically or through ads. Another great use of the Audience Insights tool is putting in your campaign targeting for an upcoming campaign and using the insights to craft better ads. This may include certain images you could include based off the interests, or maybe even which types of ads you incorporate.
In the image above, the audience insights tab tells you how likely someone of a certain demographic is to be in your selected audience compared to all Facebook users. For example, married users are 22% more likely to be in this group compared to Facebook users, or high school students are 44% less likely to be in this group.
To start using Audience Insights go to https://www.facebook.com/ads/audience-insights/. You will need to be an admin and have at least advertising level permission or higher for the page. Audiences created within Audience Insights can be saved and later targeted within Ads Manager.
Third – Make More Effective Ads
With over 3 million advertisers on Facebook, it truly is more important than ever to strategically plan your creative messaging and imagery. At KeyMedia Solutions, we often talk about the sales funnel and how certain tactics fall into certain stages of that funnel (Awareness, Discovery, Consideration, Action). The great thing about Facebook advertising is that there are campaign goals and creative options that can be executed for every stage of the funnel. All to often, people jump into Facebook Advertising with the purpose of making a sale, without thinking of how they're going to first lead their target audience to that point. Here are just a few ways to work your Facebook advertising to best lead people through the funnel and ultimately convert.
Awareness: In the initial stage of the sales funnel, ads should focus primarily on introducing people to your brand. Ads should focus on showcasing your products/services or unique aspects of your brand through images and (even better) video. Avoid using any hard sell language, and ad types like lead ads or product catalog ads. The awareness stage is also a great time to use Canvas ads like the one featured in the video below. 
[space]
Discovery: During the discover phase of the sales funnel, it's likely that people are more receptive to your messaging because they've had a previous interaction with you brand. This is a great time to use a "Learn More" call to action and to incorporate remarketing (with that Facebook pixel!) for users who have visited your site or watched a certain percentage of your video. During the discovery phase, your ads should still be primarily informational.
Consideration: Once people are familiar with your brand, its time to take your ads up a notch to get them to a point where they are considering buying your product. Facebook's Collection, Carousel, and Slideshow ads are all great formats for showcasing products/services and getting people to your website. For something like a B2B campaign, this would also be a good time to incorporate Lead ads into your Facebook advertising campaigns.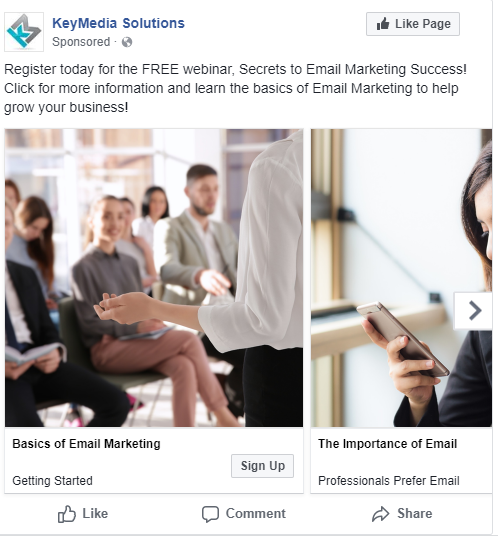 Action: This is the phase where everything comes together and your marketing pushes the customer to make that purchase or complete the conversion action. During the action phase, messaging should focus on a strong CTA and can include things like Facebook Offer Ads, Collection Ads, and Lead Generation ads. This is also the phase where targeting is most crucial. Using custom-audiences from your Facebook pixel, like cart abandoners, will allow you to craft specific messaging to convert this audience.
Overall, when it comes to creating Facebook messaging, first figure out your campaign goal, then decide on the ad types that best fit that type of goal. Remember that you can run multiple ad types within a campaign to test and hopefully capture the best audiences.
Get Started
Although brands may not be seeing the organic reach they may have once received on Facebook, there are still so many ways to engage your audience with Facebook Advertising. Leveraging your Facebook pixel, discovering Audience Insights, and being strategic with your ad creation will allow you to stretch your advertising dollars more effectively on Facebook. Not sure where to start? Check out Facebook's Business Help section, or reach out to our team with any questions!