If you're a business owner, chances are you have a Facebook page for you business to interact and market to your customers or to create brand awareness and loyalty. But no matter what you use your Facebook page for, there are some things that every page manager should know in order to maximize the effectiveness of their page. Facebook has some amazing features for business pages and these tips will teach you how to use them to your benefit.
1. Set a Preferred Page Audience
Using an audience target isn't just for promotional or boosted content, in fact, you can target a certain demographic for your entire page. To find this option, go to your settings tab and click the "Preferred Page Audience" option. The targeting includes parameters like interests, language, gender, location, and age. According to a Facebook Help Team member, "Anyone can find your page, but we'll do our best to put it in front of the people who matter to you most." This feature has been available since early 2015, but many page managers aren't aware of its targeting capabilities.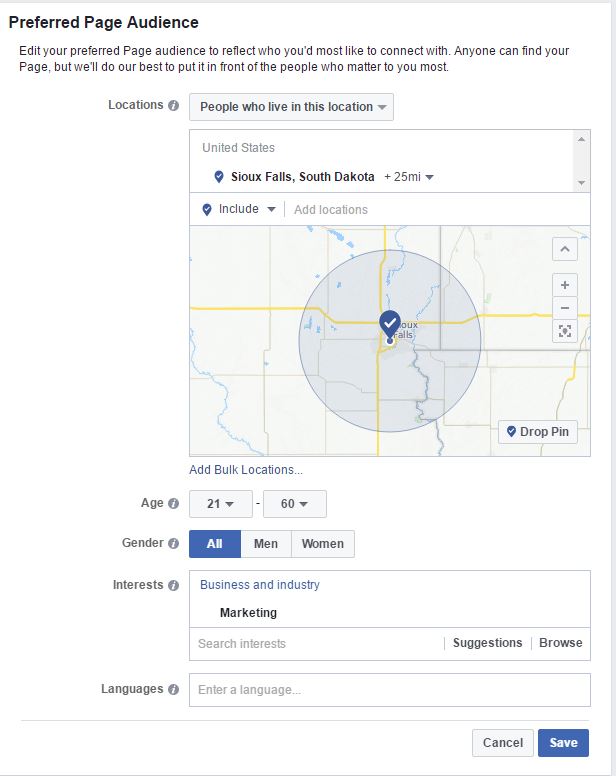 2. Consider Using Auto-Moderation
Many business page managers don't have time to monitor every comment as it comes in. Thankfully, Facebook has a few auto-moderation options to protect your page from foul language or other problematic comments. Under the "General" settings tab, you can use the profanity filter to monitor the page with its medium and strong settings. If you want even more control on what is acceptable, the page moderation tool may be useful allowing you to choose the specific words blocked from your page. If a person commenting or posting tries to use any of the blocked words, their comment or post on your page will not appear.
3. Avoid Spamming Your Customers
There is nothing people hate more than spam. Facebook knows this and has continued to alter its algorithms to recognize such posts and drastically reduce their reach. The biggest indicator of a spam post is the practice of "like-baiting" which encourages users to like if they agree. You might have seen something like, "comment for the puppy, share for the kitty" type posts. According to a Facebook study, when they surveyed people and asked them to rate the quality of these stories, they reported that "like-baiting stories are, on average, 15% less relevant than other stories with a comparable number of likes, comments and shares." Although puppies and kitties are adorable, brands should avoid asking for likes and shares, but rather encourage discussion.
4. Use the 70/20/10 Rule
One of the biggest flaws we see page managers making is thinking that their page is one big ad for their business. Instead of focusing solely on promotional content, page managers should strive to achieve the 70/20/10 rules which states:
-70% of the content you share on Facebook should be resource material or content that your audience will find valuable. This could be blogs, tips and tricks, or other original content.
-20% should be shared content. This could be links to helpful articles, shared posts, or others ideas you'd like to feature. This content should still be relevant and useful to your target audience.
-10% is then left for promotional posts like sales, coupons, and new products. Although your customers may be interested in this type of content, chances are they don't want to see it every day.
There is some obvious wiggle-room in the 70/20/10 rule, but it's a good starting point. Even if you don't have time to write blogs or articles, make sure that the majority of your activity is adding value to your brand and building recognition with useful content.
5. Let Your Customers Speak
As a page manager, you have the ability to limit what users can post or say on your wall, or hide them until you can review them. It can be scary to think that an unhappy customer could potentially come and write hateful words on your page, but this isn't always a bad thing. By allowing for comments on your wall, you allow transparency and open an opportunity for some damage control which could add perceived value.
This also goes for ratings a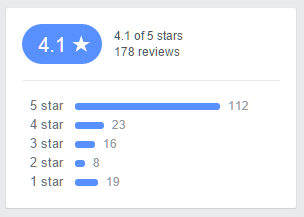 nd reviews, which let customers give you a 1-5 star rating and leave comments on the review. There is no way to remove these reviews, but you can report them if they don't follow the Facebook Community Standards. The best thing to do is to allow for reviews and interactions and have a response plan for negative comments. Some brands give coupons or incentives for the customer to give it another try, but what you do is ultimately up to you.  By providing excellent customer service and reputation management, potential customers may be more likely to give you a try despite a few negative reviews.
6. Keep Messenger Enabled
Facebook Business pages have the ability to turn off the message feature, but it is highly advised that leave it on. Facebook has recently put a lot of emphasis on Messenger by rolling out new shopping features and automated bots. It's unknown how messages affect the page ranking vs non-message enabled pages, but it's very clear that Facebook wants you to use it. Remember that Facebook shows how responsive you are, so make sure you're monitoring and responding quickly. Also keep in mind that messages allow customers to share their frustrations with you privately, which could prevent a negative post on your public wall.
7. Go Live!
Facebook's Live Video feature is becoming wildly popular for individuals as well as brands. The live video is streamed to followers and allows them to watch, comment, like, and react in real time. Businesses can use the video to feature products, do giveaways, or cover stories and events. On average, the live videos have better reach than a prerecorded video posted to the page. Here are a few tips to help you start your first Facebook live video or improve the ones you're already doing.
-Be Prepared: Know what you're going to talk about before starting to go live. Know how long you want to spend talking about certain topics, but also know your followers may have questions for you that will cut into your time as well. The live aspect of the video is what draws people in, so avoid being prepared to the point of being rehearsed.
-Mention it Before: Tell people that you'll be going live a few hours before you do in order to build your live audience when the video starts.
-Have the Caption Written Before: Just like other posts, you can have a caption about the video. Type this out before going live to let viewers know what you are talking about.
-The Longer the Better: Live videos have the best traction when they are longer because it lets more viewers join in. It is recommended to go at least 10 minutes, with the maximum time being 90 minutes for a regular live video.
Here at KeyMedia Solutions, we have started using Facebook Live to do a 10 minute web-show every Friday morning at 10 AM. We call it the 10at10 and prepare digital marketing updates to share with followers each week. In addition to the prepared material, we answer questions from viewers that they have about digital marketing.
8. Don't Break the Rules
Lastly, make sure you follow and read the terms of service set by Facebook. If you're caught breaking their TOS, your page could be removed immediately without warning. One area where many businesses break the rules is during giveaways or contests. You might want to read the Facebook Page Terms before starting your next contest. It's safest to check the TOS agreements and forums before making any major page changes or running a major contest to make sure you're in compliance.
Become the Page Manager You Were Meant to Be
These are just a few tips to help you manage your Facebook page. Remember to treat the page not just as a means of advertising, but a way to create, build, and keep lasting relationships with your customers. If you have any questions about advertising on Social Media, we're always here to answer your questions. You can also download our free whitepaper on the difference between running a personal Facebook page and a business page.