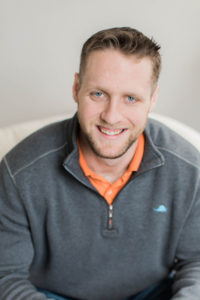 Two years ago, I began my professional journey at KeyMedia Solutions as a Digital Media Coordinator. Just a year out of college, I was eager and excited to step foot into the corporate world.  Although young, I felt unsettled with my overall direction in life.  I participated in a random variety of extracurricular activities; I did video production for the University of Sioux Falls football team, spent time in the gym, played softball, and yet with all of that, I felt as if something was still missing.
Throughout my life, I have fought my way through some very challenging personal trials at quite a young age.  Unfortunately, in November of 2018, I found myself in a familiar difficulty once again. This time, however, thanks to my amazing coworkers, supportive family, and conveniently timed expiring lease, I had an opportunity to move back across the country to my hometown of Tallahassee, FL. This personal battle was far from over and something I am still managing.  Thanks to the flexibility of KeyMedia Solutions along with a multitude of other factors, I can successfully manage it at a higher level.
As a 23-year-old, working roughly 1,200 miles from the main office, one would imagine I could easily get distracted, or not be an effective remote employee. It was even a thought that ran past my mind from time to time during the 2-day haul back home to Florida. However, growing up in a house with a widowed single father who was a remote salesman for over 20 years, it was something I adjusted to easily and actually prefer it. I found myself being more efficient, forcing myself to learn more because of some of the obstacles that come with remote communication, and just happier. We can credit that last one to the beautiful warm weather of the Sunshine State! While things in my life were once again stable and on the upswing, l still felt as though something was missing.
Adjusting to being back home and working remotely took a little time. There were hits and misses along the way with things like establishing a consistent routine, separating my personal and work life, and learning to communicate the given digital channels. As those who regularly work from home know, you must establish a dedicated workspace. A place that is not "home" within your home. This was the most challenging part for me.  If I was behind on a project or wanted to get ahead, it was just five steps away for me to work.  After many conversations with my inner circle, I established a balanced lifestyle with boundaries and learned to turn the office off.
My work life was conforming and falling into place and my personal life was beginning to settle in too. I was reconnecting with family and old friends. I was stunned to discover all the changes to my hometown over my six-year absence. I even started getting back to the gym!  It felt good to obtain a level of normalcy. Yet, something felt off and I was trying to figure it out.
Shortly after my return a close friend recommended that I read Simon Sinek's, Start With Why. I am an avid reader and since she wanted to read the book together, I thought, why not? If you have ever read this book, you understand what I am about to say. If you haven't, add it to your list and read it next! As I read through the book, Sinek's words struck a chord with me. I started to think about why I woke up each morning, why I was motivated, and why I make the choices I make.
After college was over, I was no longer playing football. I had graduated from a sport that I had dedicated 16 years of my life and now it was just done.  I felt lost and could not fill the void left by football. I finally realized it was the reason I felt like something was missing in my life.  I longed for everything football gave me, being part of a team, the value of hard work, and the opportunities I would not have had otherwise. As I kept reading Sinek's book and applied it to my life,  I was able to define my "why" – I want to give people opportunities they've never had before. This is my reason for getting out of bed each morning.  Suddenly that feeling of something missing started to fade (a little).
I began to apply this "why" to my professional life and saw a fundamental change in my work. I got excited about taking on new clients, I connected more with my current clients, and the KMS team felt closer than ever, even though they were physically halfway across the country. But as I felt increasingly fulfilled in my professional life, I was still feeling that emptiness in my personal life.
Time marched on and in late February of 2019, I visited a good family friend and the man responsible for my meathead lifestyle – Coach Al. Al coached at Maclay School, a private prep school in Tallahassee, for nearly 20 years as their strength and conditioning coach. He and I spent hours catching up and talking. Near the end of our conversation, he asked me if I had ever considered coaching football. Interestingly, one would think that after playing the sport at a high level for 16 years, coaching would have been at least a thought- It wasn't.  He then introduced me to the Head Football Coach, Lance Ramer. We had an instantaneous connection.
After going through the formal interview and hiring process, speaking with my leadership team at KeyMedia Solutions in Sioux Falls, and some prayer, I accepted the position of Offensive and Defensive Line Coach at Maclay School for their Varsity Football Program. I would also be assisting with strength and conditioning.  The missing piece was back in place. Now as a coach instead of a player, I can demonstrate to the next generation all the opportunities football has to offer.  I am now fulfilling my "Why", giving people opportunities they haven't had before.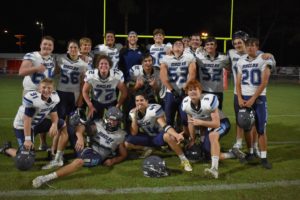 Next came the tedious challenge of logistics!  How was I going to take on a coaching position while working remotely full-time? I was living in the Eastern Time Zone, working for a company in the Central Time Zone, and now I accepted a position that would further disrupt my normal 8-5 work schedule!  When Spring football rolled around in 2019, I had worked with my team at KeyMedia Solutions to establish an adjusted work day to accommodate my clients, coworkers, and coaching schedule. Since practices began at 3:30 pm EST or 2:30 pm CST, we ultimately decided to move my schedule to 6 am – 3 pm EST. This in and of itself presented several challenges. But it didn't really matter, I would've gotten up at any time to make this work.  I had never felt so fulfilled or happy.
I began the 7-month journey of an extremely adjusted schedule, (including assisting with summer workouts). I was nervous about how everything would fall into place. What happens when I have questions and no one is in the office? What about client meetings, internal meetings, and my recurrent visits to the Sioux Falls office? How was all of this going to work together?
Communication has been key. I had to learn how to effectively communicate my thoughts through emails, chats, and short phone calls. Some would think that the personal touch would be lost through digital means. In my case, it has not been at all. I personally believe this is a testament to the KeyMedia Solutions team and the values set by the company.  KMS doesn't just talk-the-talk about work-life balance, they walk-the-walk!  KeyMedia Solutions is truly committed to supporting employees in living their best lives while producing their best work.
Because we are a team that truly wants the best for one another, everyone at KMS was flexible with my schedule. When it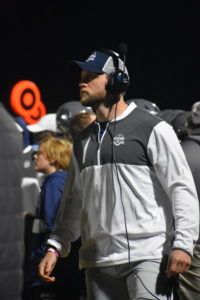 came to meetings with clients or coworkers, they knew I had a short window of shared office time, so we maximized these opportunities. Traveling back to the office meant I had to communicate with my football staff that I would be missing practice time and the occasional game. To date, this has not presented a problem. For the first 7 months, we had almost zero problems, slips in communication, and never missed a meeting. The biggest thing for me was keeping my cell phone on during practice, so if something pressing or urgent came up while I was out, I was able to answer and act quickly.
Before I knew it, both marketing and football were working like a well-oiled machine.  Whether it is a sports team or a corporate office, culture is what makes it thrive. As I enter my third year with KeyMedia Solutions, I am still amazed at their willingness to work with my unpredictable schedule. Considering the challenges my situation presented almost from the start of my employment, some employers would think this to be impossible and move on.  Because of the values and company culture at KeyMedia Solutions, I am living "my why" in every aspect of my life.
This supportive working environment has given me an immense sense of gratitude for my amazing coworkers and especially for CEO, Korena Keys. Thank you for offering me opportunities and options through all the challenges and curve-balls I have thrown. Thank you for your guidance and genuine concern about what was best for me as a person, not just an employee.  I am also deeply grateful for the players and coaches of Maclay for returning football to my life.  Without all of you, I would not be able to write this blog.