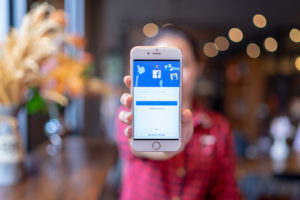 Facebook has confirmed they are testing mid-roll video ads, and live stream video ad placements. Here's what this tells us about their plans for video. Facebook is testing the video unit as being non-skippable for the first five seconds it runs. A countdown circle will appear to the left, and after 5 seconds, a "Skip" button will appear. Which is very similar to the experience on YouTube.
YouTube's current rules are that a video must be at least 10 minutes for a mid-roll ad placements to be eligible. Facebook has yet to specify if there will be a length requirement. Facebook is also testing multiple ad formats on in-stream live content, opening up potential new revenue sources for content creators. The test is running on a small group of publishers, and include placements for pre-roll, images below the stream, and a mid-roll ad that bumps the live stream to a smaller window until the ad is over. Advertisers concerned about the placement can exclude them as an option, or ad specific publishers to a block-list.
What does this mean?
Facebook made moves to try and become a major player in long-form video, but it hasn't quite happened yet. Analysts watched the launch of their Watch feature in the app, curious to see if it would steal market share from YouTube. It hasn't, with Facebook confirming on the Q4 earnings call that most video is watched in the news feed.
These features they are testing are part of a big push to woo content creators away from other platforms such as YouTube or Twitch.
Facebook Messenger One-Time Notifications
Facebook Messenger marketers have a new way to automatically stay in touch with customers on the messaging platform and its called One-Time Notifications.
One-time notifications are a way you can invite users to get an update from your Facebook page when the update is available. Think sales, back-in-stock alerts, and product launches. You can invite people to sign up for a one-time update a bunch of ways, like a checkbox or button on your website, a comment guard on your Facebook post or Send Message button on your Facebook page.
Facebook's approved use cases for automated messaging include:
One-time notifications
Replies within 24 hours
Confirmed event notifications
Account updates
Purchase updates
Subscription updates by news organizations
Sponsored message ads
Now this is something that you have to apply to get access to right now, since it's a beta feature. But this is just another great tool that helps businesses of all sizes stay in touch with their customers.