If you've noticed a downward spiraling performance of your organic reach on Facebook in the past few months, you're not the only one. Businesses across the world are struggling to show up in their audience's newsfeed.
For years, organic reach has been the sought-after statistic that page managers have used to prove their posts were a success. Simply by posting on Facebook, a business could sit back, relax, and enjoy the fact that almost all of their page followers would be shown their content.
Oh how the times have changed.
Why has Facebook Organic Reach Changed?
The decline of Facebook's organic reach is due to the overwhelming amount of content that's uploaded to the platform every day. Not only people, but news sources and brands are fighting for their place on a newsfeed. This accumulation of content and the fight for people's attention has forced Facebook to adjust its algorithm to review and rank content on the platform.
This process has been going on ever since Facebook was founded in 2004, however, when Facebook Pages first launched in 2007, businesses began to more closely monitor their posts. By 2012, Facebook Page managers could expect posts to reach an average of 16% of their followers. This number would drop to 6.5% in 2014 and below 2% in 2016. Today, organic reach has fallen below 1% for many pages.
How has Facebook Organic Reach Changed?
Facebook's algorithm isn't the only thing that has changed. Early in 2018, the platform announced that it would be making drastic newsfeed changes in the months that followed. The primary purpose of these updates was to prioritize the posts of friends and family over brands and businesses.
This change would have a dramatic effect on the organic reach of businesses. While this may seem like the end of businesses on Facebook, not every profile suffered the same fate. Businesses who engaged with their audience with creative content and conversation continued to see positive results in the form of organic reach.
This would ultimately prove that Facebook's algorithm heavily takes into account the engagement posts receive. The more likes, shares, comments a post receives, the platform would distribute that content to more newsfeeds.
Facebook's New Definition of Organic Reach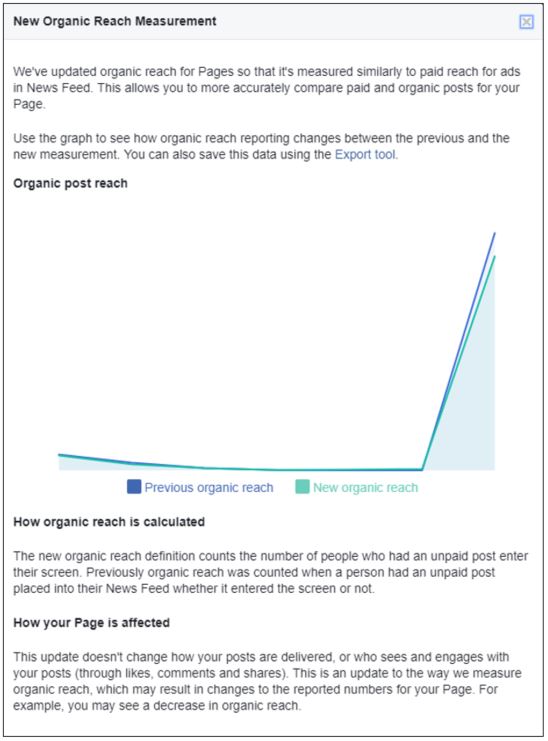 Just when we thought we had it all figured out, Facebook announced that it would be changing the way organic reach would be calculated. Organic reach has always been calculated as the number of people who are delivered a post. However, this did not necessarily mean that a person saw your post. When Facebook's algorithm would determine that a post was relevant to someone, the platform would place that post in the individual's timeline and expect the person to scroll down and see it. Whether or not the person scrolled down far enough to see it did not matter, the reach of the post would still be counted.
This is exactly what Facebook has changed. In a notification in the "Insights" tab, you might have seen a pop-up screen explaining the change. The notification says, "The new organic reach definition counts the number of people who had an unpaid post enter their screen." This update closely resembles the way "Paid Reach" is calculated on Facebook ads. Now, reach will only be counted when your post appears on a person's screen.
This update will increase the accuracy of organic reach by allowing people to know for sure that their post was seen. However, it's also another factor that will lower the total organic reach of a post.
The End of Organic Reach?
Will all these updates be the end of Organic Reach? How can businesses continue to use Facebook to promote their brand and connect with their audience? These are both good questions. Facebook has made it clear that the platform wants to provide a good user experience. This means cutting back on brand posts and promoting the content of friends and family.
Have hope though; while these updates may seem troublesome for businesses, they also provide opportunities to get ahead of the game. What I mean by this is that brands are now looking to produce quality content that promotes engagement. The businesses that use Facebook to generate conversations and deliver quality information will be the ones to succeed in the post-organic reach era.
How to Determine the Success of a Post
You may still think organic reach is the best indicator of success on Facebook, but there are lots of other data you can use to optimize your posts. Listed below are some of the other insights Facebook allows you to see.
Engagement Rate – This is determined by the number of people your post reached who then liked, commented, shared or clicked on your post. I believe a post's engagement rate is the best way to determine the success of a post. Because Facebook rewards high engagement on a post with higher reach, it should be the goal of businesses to increase the engagement rate of their content.
Reach: Fans/Non-Fans – Also found under the "Insights" tab, you're able to break down your reach between fans and non-fans. This data is helpful if the goal of your post is to reach new people on Facebook. By separating these two categories, you can see how many people who do not follow your page were shown your post.

Think Quality
We may be looking at the end of organic reach, but this doesn't mean Facebook is going away. Businesses can still use the platform to connect with their audience. Through a strategic use of paid and organic posting, businesses can still see success on Social Media.
So what's the best advice anyone can give? Post quality content! Look back at your most successful posts and figure out how to recreate that content. Highlight your company culture and look to answer questions. Make your Facebook page a place where people can learn about your business and get in touch with you.
Use this information and together we can survive the decline of organic reach. If you'd like to learn more about social media advertising, download our whitepaper below.