It's often forgotten that different marketing tactics have the ability to work together. Just because two of your marketing tactics seem very different and independent from one another doesn't mean they can't work together to improve you online marketing campaign.
Email marketing and social media marketing can easily be thought of as a "one or the other" situations when it comes to developing your marketing strategy. Today's world lives on social media, so we naturally devote more attention to the popular platforms like Facebook and Twitter to target and engage with customers. Email has become a part of our daily life and can sometimes be overlooked by small businesses as a viable tactic to spread brand awareness, however, a Forbes article recently reviewed a study and said that email marketing is the most viable marketing channels for multiple reasons.
But this doesn't have to be the case. When you're putting together a marketing strategy for this New Year, don't make the mistake of only relying on one of these tactics to generate new leads. Social media and email marketing have unique features that allow them to work together and generate leads through multiple sources.
In this blog, I've listed out five tips that you can use to bring together social media and email marketing to start expanding your brand awareness and generating more engagement with your content.
1 Include links to your social media pages in your emails
Let's get the simple ones out of the way. This may seem obvious, but many people fail to include information about their social pages in their emails. Now, this doesn't mean putting a Facebook or Twitter logo in a hard to read place, buried in an email where no one is going to see it. Make sure your icons are easy to find and in the face of the people reading your emails.
Here are a couple of examples of social sharing options. The first is an email that displays the sharing options in the top right corner of the email. This makes it easy to see and one of the first things a person will read when the open the email.

This next example is social sharing icons that we include at the bottom of our emails. We also include a call to action above the icons to promote engagement.

 2 Upload your email subscription list to social media
This tip is one that can be used to better connect with people who you send emails. Email campaigns have a reputation of being a disconnected means of communicating with potential customers, while social media is seen as the source where more personal conversations between businesses and customers happen. Uploading your email subscription list to social media has benefits to learning more about what your customers want from you.
 Build relationships – your customers will naturally feel more comfortable engaging with material on social media, so make sure that your connecting with the people you send emails to on social media as well.
Find out what they want – social media is a place where you can find out what your customers really want. Once you know what their asking for from you, deliver it to them in your emails.
3 Collect emails using social media
Don't just rely on sharing content to make people interested in your business. Encourage people to sign-up to receive exclusive content directly to their inbox through social media. Promote your monthly newsletter and include a link to the landing page so they can register right away. You can also take advantage of Twitter's Lead Generation Cards to encourage people to sign-up for emails directly through the platform. Finally, make sure to include call to action buttons on your social media pages. These allow people to give you their information directly through social media.
This first example is of a Twitter Lead Generation Card. Notice that their call-to-action button says "Join the community" instead of something boring like "Click Here."
This is an example of the KeyMedia Solutions' Facebook page. Our call to action says "Contact Us," but if you're trying to capture emails you can change the call to action to say "Sign Up" where they can then give you their information.

This last example is a KeyMedia Solutions' post promoting registration for our monthly newsletter. Once the link is clicked, the contact is directed to a landing page where this input their name and email.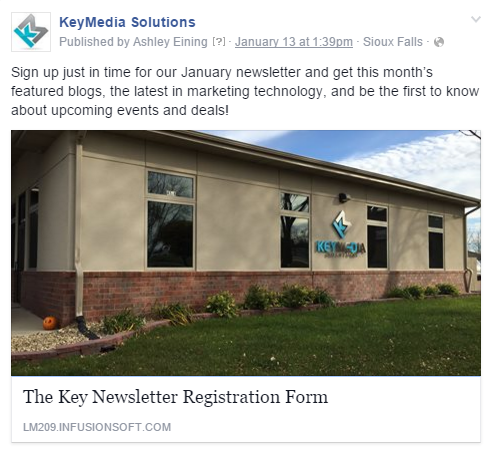 4 Utilize testing to improve both tactics
Testing is an important part of any marketing campaign. Testing the performance of ads and comparing images, subject lines, and content are all relevant in online advertising. Email and social media marketing should be tested as well. Here are some examples of email marketing and social media marketing improving the performance of each other.
 Which of your email subject lines generate the highest open rates? Use that subject line as a headline for your next social media post.
Test image engagement with social media and incorporate the images that receive the most clicks into your next email.
Just like testimonials, include positive social media comments in your emails to increase brand loyalty.
If your next email contains a special deal or an interesting article, tease about it with social media post.
5 Promote social shares using automated emails
One of email marketing best practices is to utilize automated emails like thank you or confirmation emails, but automated responses can also be used to ask people to share your content. This tip might best be explained with an example.
Say that we recently posted a blog about email marketing that has been getting a lot of likes, shares, and retweets. Now we want to ask our contacts that subscribe to our emails to share it as well. Here is a simple email template that asked our contacts to check it out and share the article.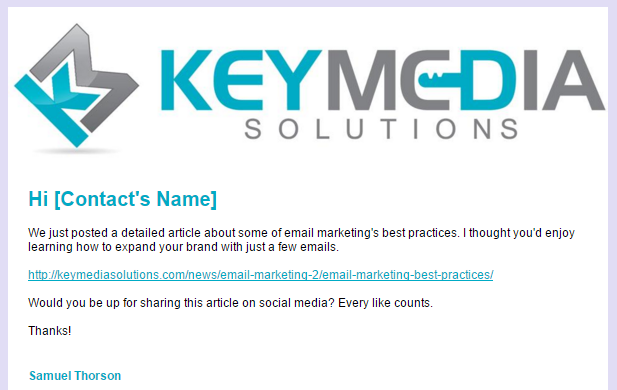 Conclusion
Today's successful marketers find the connections between seemingly unrelated tactics and us them to improve the performance of both. Email marketing and social media marketing connect with people in different ways, but integrating them with these tips can expand your business and increase your brand awareness.
If you thought this article was interesting, you might also want to download our free whitepaper about the difference between a business and personal Facebook page.