Today's consumers are smart. We live in the era of savvy technology users who constantly have the world at their fingertips, literally. A Pew Research Center survey done in November of 2015 showed that 68% of US adults own a smartphone. And when these adults are surfing the internet, be that by smartphone, tablet or desktop, they have an expectation of what their online experience should be depending on which platform they're on.
Social media platforms like Facebook and Twitter connect us to friends and family. Search Engines help us answer questions and find information. Video platforms like YouTube will focus on visually telling us a story. The point is that each of these platforms paint a different picture for their users.
And as the business world began to see advertising opportunities in our new found dependency of these online platforms, marketers began to run into problems by thinking they could simply place their advertisements on any platform. What we've come to find is that businesses that blanket multiple platforms without tailoring their ads to match the purpose of that particular platform, the ads fail to convert leads.
Advertising with a Purpose
You wouldn't take a TV commercial and air the same audio on the radio. In a video, the audio has a visual element to rely on; the same goes for Digital Marketing, different ads will rely on a different environment created by the platform. This idea needs to be kept in mind throughout the entire process of creating, building, and implementing a digital campaign.
In my blog today, I'm going to cover tips for creating effective ads on multiple platforms. After reading through my blog, you'll understand the difference between attracting customers with search engines, social media, and Remarketing ads and what those ads should look like.
Now not only will you need to take into consideration the specific platform experience, but also what stage of the sales funnel this audience will most likely fall in. Considering the sales funnel will help with creating advertisements that are most likely to help convert your audience.
Targeting your customers to reach them at a specific point in this funnel will deliver better results for your ads. The image to the left represents a sales funnel that a typical customer would engage with on their journey to make a purchase.
Creating Search Engine Ad Copy 
Google, Yahoo, Bing and Pinterest are platforms that are primarily used as search tools – all of these sites are similar in the way they are used to search for answers to questions, products, services, and find inspiration and ideas. These online search tools can be seen as the "shopping mall" of platforms.

Search Engine Ad Copy Tips:
The user is more likely to engage with your ad in the Interest or Decision stage of the sales funnel.
Think in keywords and the terms that are used often throughout the website. You want to put yourself in the searcher's shoes, what will they be searching for that will be likely to pull up your ad (ex: 'Internet in my area', 'red running shoes').
Set up campaigns as specific as possible. If I was a car dealership, I would have a different set of ads and targeted keywords specific to each brand of vehicle.
Pinterest Promoted Pin Tips:
Utilize a quality photo. This is the element that will most likely grab the audience's attention.
Avoid stock photos.
Have a clear, short description of the landing page so the user knows what to expect (ex: product description, blog summary).
If it is for a product or service, include price in the description.
Creating Social Media Ad Copy
Try to think of Social Media as more of the cocktail hour of online platforms. These sites are where people go to socialize and connect with others. Advertisements aren't as welcome on social platforms because people aren't necessarily there to see updates on brands. That is why you need to tailor your ads to fit with the audience expectations of the platform. You must be careful to not disrupt the experience, but rather blend with the tone of the platform.
Facebook
Facebook is used for connection. It might be easy to grab user's attention on this platform, but it's not be as easy to receive click through actions to your site.
Twitter
Twitter is used to stay up-to-date. Users are more likely to follow profiles of brands, celebrities, political figures, and news to get the latest updates. This platform is referred to being like a short blog site where users post 140 character statuses that can include links, photos, and videos. Unlike Facebook, Twitter users are a bit more willing to click to your site on this platform to find out more information.
Social Media Ad Copy Tips:
This audience is more likely in the Awareness stage of the sales funnel.
Keep in mind, in the case of Facebook, this audience isn't as likely to leave the site. Utilize campaign objectives that cater to this fact. (ex: brand awareness, page promotion, lead forms, video views)
For Twitter, if you're including a link, this audience is a bit more likely to click through to site. Entice them with a question or a statistic that will grab their attention and make them want to learn more.
The photo is very important! Many people will engage more with the image over reading the copy.
Creating Remarketing Ad Copy
Remarketing ads are a different form of advertisements. This audience has already been to your site so you can tailor your copy to be a bit more direct. The goal of the ad is for them to come back to the site again and maybe, also complete an action.
Remarketing Ad Copy Tips:
This audience is more likely in the Decision or Action stage of the sales funnel.
Use Ad Copy that reminds the audience the product or service they were looking at when they were on your site.
If possible, create urgency in the copy by adding notifications about deals, or promotional material. (ex: Additional 25% off).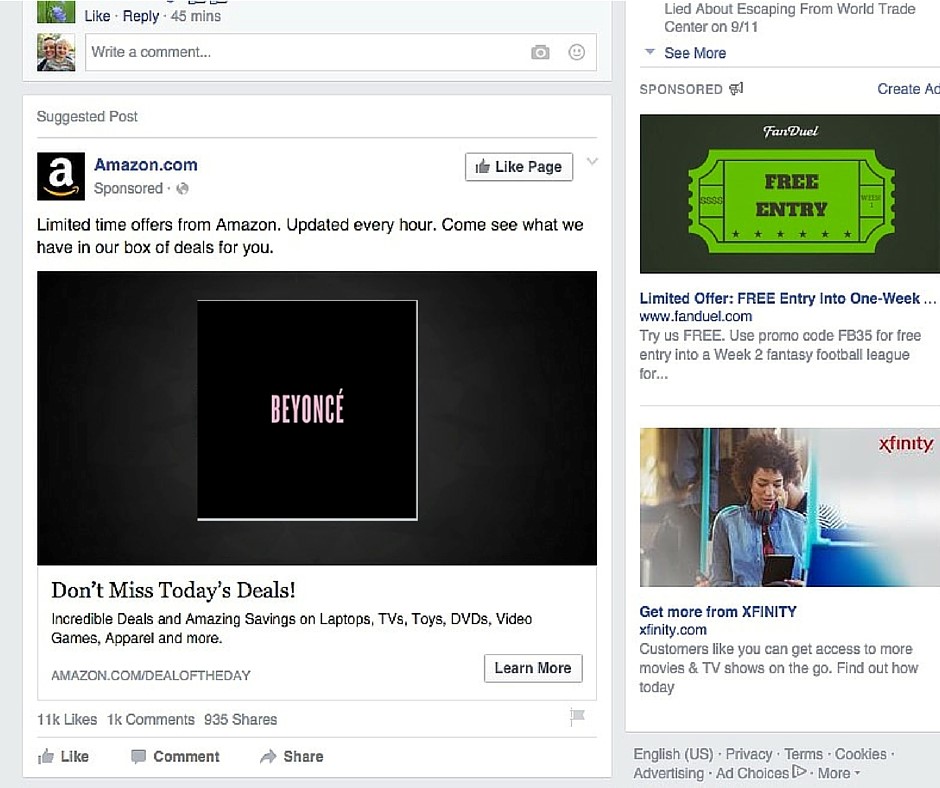 Ad Copy Tips:
Always use a Call-To-Action. You want to tell your target audience the exact action you want them to take (ex: Call Now, Buy Today, Sign-Up Now, Register Today).
Always include your business name and when possible, the business logo as well. Not only will this be stating who the advertisement is for but will also help build brand awareness.
Overall, an entire advertising plan should have a seamless flow throughout and be consistent with the theme and voice of the website.
Meeting the Demand
The tips that I've shared today only cover the tip of the iceberg when it comes to the ads on different platforms – I didn't even talk about video ads (Keep an eye out for that blog). Today's online dependency for online content has opened the flood gates to marketers trying to place their ads wherever they can. It's up to you to figure out a way to stand out above the crowd and have your ads meet the demands of today's consumers.
If any of these tips peaked your interest in Online Advertising or if you have any question about what I covered today, feel free to reach out anytime.