No matter the industry, every business has their own version of a sales funnel or they have a process in place to generate more business. A sales funnel is an organized structure that refers to the buying process of new customers. It involves multiple touch points with various mediums such as sales reps, word of mouth, online retargeting, and social media. However, every business creates their own version of a successful sales funnel depending on their target audience and ideal outcome.
Because of all the different funnels out there, the struggle for many businesses is to optimize their existing process to meet the changing demands of today's consumers. In my blog today, I'll discuss the different factors that contribute to shaping a successful sales funnel for your business. I'll also explain some of the different techniques and online tactics that can increase the chances for potential customers to reach the end of their buying journey and convert sales.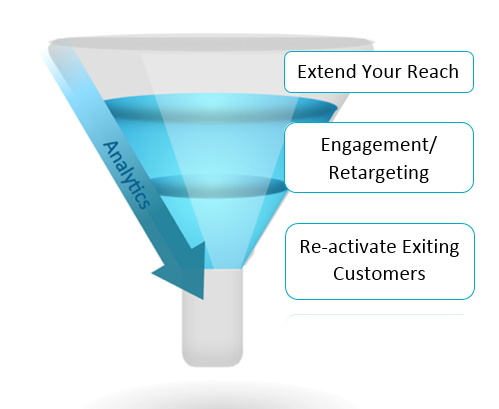 Extending Your Reach
Every sale begins with a large number of prospects and generally ends with a much smaller number of people who will actually buy your product. This happens because the opening of the funnel is designed to attract the most amount of potential customers. This phase is made up of the actions put in place to provide relevant information about your business when people want to learn more about your products or services.
Today's consumers have the ability to kick the tires of your business far before any contact is made just by searching your company name on the Internet. Depending on how much information customers can find about you, they're able to compare that information with other competitors. In the past, marketing teams would be responsible for filling the top of the funnel and the sales team worked to move customers down the funnel and convert sales.
Engagement/ Retargeting
The online resources of today have created more of a joint effort between marketing and sales. Customers are now able to move themselves down the funnel through their own interactions on social media, search engines, and website content. This has created more of a two way conversation between your business and the consumer while also adding more touch points to increase their engagement to your influential content.
The multiple touch points happen by creating a well-executed marketing plan that includes Retargeting. This online tactic is incorporated into a sales funnel to remind people of your business even after they've moved on to something else. Think of Retargeting as a way to keep your business visible and top of mind to your customers.
Re-activate Existing Customers
One of the most important features of a sales funnel that is often overlooked is the targeting of existing customers. Once someone makes a purchase it's important to have a plan in place to positively engage with them in order to make sure they continue to buy from your business.  
A fantastic way to do this is with a monthly newsletter or a blog much like this one. Not everything you write or produce content wise will resonate with your audience. The most important thing to realize is that the customers who have already converted sales for your business are going to be the most likely prospects to make another sale. Your marketing doesn't have to be as forceful with these existing customers, but you also need to make sure you're still keeping your business in front of them while they are deciding they next purchase. You never know what will peak that interest which is why it is important to always be testing new content staying on top of mind as the industry expert.
Optimize your Sales Funnel
With everything that I covered in my blog today, I hope you're thinking about what your sales funnel looks like. What content are you using to reach new customers? How are you keeping your business top of mind to potential customers; do they consider you an industry expert? Finally, what reasons are you giving them to contact you and make a sale?
Taking the time to answer these questions and develop a solid marketing plan designed to move customers through a sales funnel is an important step in the growth of your business. It may be a difficult process to put everything in place, but the benefits of an efficient sales funnel can prove to be the difference between growth and decline for your company's future.
Don't think that you're in this process alone. Building a successful sales funnel customer made for your industry takes time and patients. That's why we're here. KeyMedia Solutions uses the latest Online Advertising technology to find new ways to make your business stand out above the crowd. If you'd like to start building your own online sales funnel, click here to talk to us today. Otherwise, feel free to read more of our articles and find out for yourself how Online Advertising can benefit your business.
You can also click below to download our free whitepaper and learn more about Remarketing.