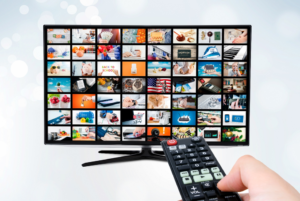 Super Bowl LIV is coming up, and now is the perfect opportunity to get your brand recognized on the biggest stage! Previously, the only way to get your ads shown during the Super Bowl was to contact your media buyer and have them buy spots from your local television stations.
Now, with the emergence of Connected TV (CTV), you can easily add CTV to your digital stack and promote your business during one of the highest traffic times of the year!
Connected TV vs. Traditional TV
A massive advantage of CTV over traditional TV media buys is that with CTV, you're in control.  By utilizing CTV, you can have one budget spread across many different networks eliminating multiple budgets for various networks as with traditional TV buys.
The big game is broadcast on different networks every year. This year, the Fox Network will broadcast Super Bowl LIV.  CTV will allow you to reach as many people as possible within your ad budget. But are people really watching the Super Bowl on streaming devices?
How Many People Watch the Super Bowl on Streaming Devices?
The Super Bowl saw a dip in viewership last year, according to Nielsen. However, that number may be skewed, as it doesn't account for people who streamed the Super Bowl. According to Tech Crunch, last year's Super Bowl LIII saw record numbers in people who streamed the big game. CBS reported the game streamed across 7.5 million unique devices in 2019, an increase of 20%, according to CBS. This year, even more streaming services offer Fox as part of their live TV packages ensuring more fans than ever will be able to watch the game.
The Places We'll Go
The rise of streaming services cut the cord on cable and caused some problems in the traditional tv world, but also offered new opportunities to reach people. The major TV streaming players like Fox, CBS, ESPN, Sling TV, PlayStation Vue, Fubo TV, and others all have TV inventory available through programmatic platforms. This allows maximum reach for your ad budget. When you don't limit where you serve, the opportunity to reach people who fit your target audience grows and maximizes your ad budget.
How to Get Started
Ready to get started?  Reach out to our dedicated team today and we'll work with you to put together a strategy to promote your brand before, during, and long after Super Bowl LIV. We have solutions that will help build on any momentum gained during this promotional window.