Familiar with the saying, "the squeaky wheel gets the grease"?
In the age of digital, a bad experience with a brand or product can have detrimental effects on said entity. Online reviews have become very important, as 90% of people read an online review before visiting a business. A squeaky wheel, or negative review, can really have negative implications for businesses and brands. On average, a single negative online review will cost you 30 customers.
This is even more crucial in the Tourism and Travel Industry, as people search for new things to do in unfamiliar cities. Vacations and experiences are intangible and produced and consumed at the same time, leading those to trust people who have gone through the experience, stayed at the hotel, or ate the food before them. Travelers trust online reviews in the same way that they would a personal recommendation. Technology has transformed the way we travel, with endless information at our fingertips that has shaped the average Joe into a well-informed traveler. User-generated content (like reviews, blogs, ect.) has skyrocketed and illustrates the importance of word of mouth in the tourism sectors. Here is the scope of UGC (User Generated Content) in the tourism industry:
TripAdvisor has over 702 million total reviews and opinions
Trivago has over 190 million hotel ratings
com has over 95 million guest reviews in 230 countries
Scoping the Room
When it comes to booking a hotel, travelers tend to rely on the experiences and opinions of past guests to knowing what they are getting themselves into. In fact, 90% of those polled in a recent survey indicated that ratings on a review site played an essential role in their booking decision. And if bad reviews scare you away from enabling review features, you should know that 53% of consumers won't book a hotel with no reviews.
So what can you do? Respond! The number one thing that can be done about a negative review is responding, whether the review is positive or negative. This seems like a no-brainer, but only about 32% of hotels respond to reviews and 70% of negative reviewers hope to receive a response.
TRAP Them
There are four things to remember when responding to reviews.
T- Thank Them. Whether positive or negative, it is always good to show appreciation to guests who took the time to write a review about your business.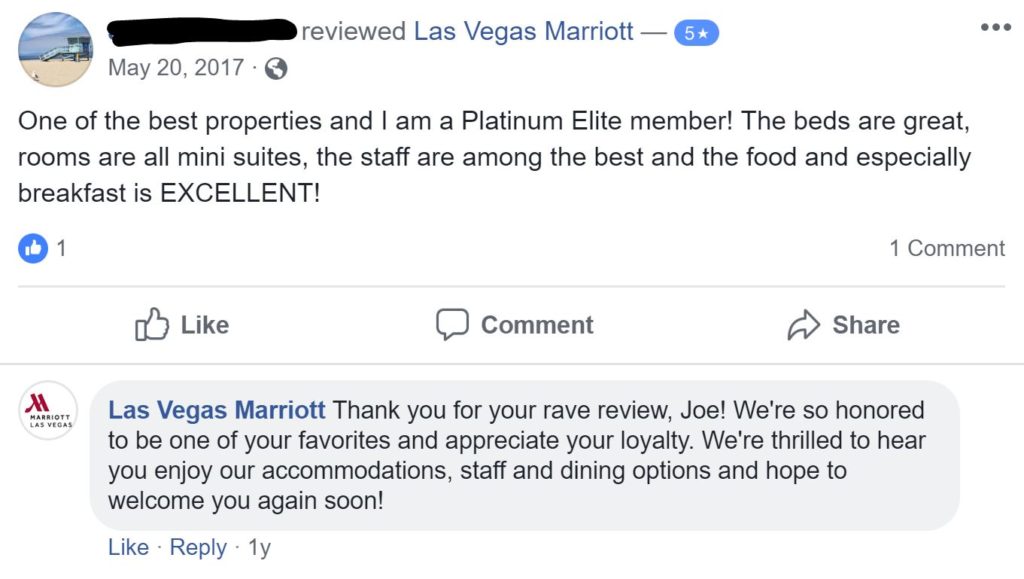 R- Respond Promptly. Have a dedicated person(s) that monitors your business reputation and can promptly respond to reviews. This indicates a general care for your consumers' experiences and can leave a lasting impression on them, as well as others looking at the review afterwards.
A- Address Complaints. Whether you find your business at fault for a negative review or not, you should address the complaints and give feedback that shows they are taken seriously by your business.
P- Profession & Polite. Keep your responses human and non-robotic, but keep it professional. How you respond to a negative review will be seen by many people to follow and leaves a lasting impression.
BONUS TIP- Always respond to a review publicly, but when possible, take the conversation offline. This could include asking the reviewer to send an email or message to your team to further address the situation.

Reviews are an opportunity to start a conversation and engage with guests. Use feedback to improve your employee training, make improvements to services, and better your business from the past experiences of others.
Why So Negative?
Having a better understanding of why people post negative reviews can hopefully help your business mitigate them in the future. The good news is that only 23% of people post negative reviews for vengeance. So while it may seem like you are coming under attack, its likely not personal. As mentioned previously, 70% of people who complain are hoping for a response. Most people just want to be heard. Take a negative review as an opportunity make things right.
The top three reasons for negative reviews in the travel and hospitality business sector are mostly avoidable or at the least fixable.
Rude or Unhelpful Staff- This is the number one reason for negative reviews across most industries, but is heightened in the hospitality sector.
Unrealistic Expectations- Make sure your claims and photos set realistic expectations of the experiences your customers will enjoy. People don't like feeling duped. If you promise more than you can deliver, you can expect people to take their disappointment online.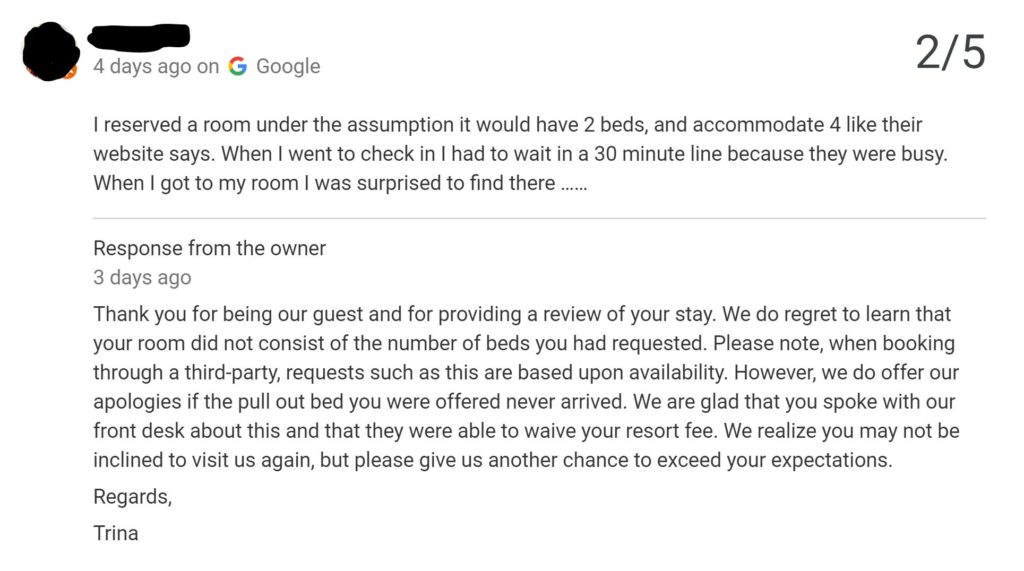 Poor Handling of Situations- Sometimes the unexpected happens. How you and your staff respond to situations has a role in the satisfaction of your guests. Challenge your team to go beyond in customer service. Remember, the compensation does not need to be financial. Offer the unexpected. Pleasant surprises are memorable and can turn a poor interaction into an opportunity for a positive review.
Traveling Forward
Negative reviews are inevitable. How your business responds and improves from a negative review is where you have the chance to turn it around and make it a positive experience. Negative reviews are just one aspect of the review landscape, and focusing on gaining more positive reviews should also be a focus for your business. It will take five 5-star reviews to offset the ranking of one 1-star review. Here a few things you can do to encourage customers to leave positive reviews.
Create Incentives- Sometimes people just need that extra push to make them want to take the time to write a review. This incentive can be something as simple as a coupon code, contest entry, or small prize. Be sure to encourage honest reviews to truly get the best value. I recently stayed at an Airbnb and was sent this email after my stay. The incentive in this case is simple, if I want to see how my host reviewed me, I also have to submit my own review.
Know When to Ask- Asking for reviews at the wrong time can lead to negative reviews, so make sure you are asking at the right moments of the customer journey. Positive moments could be:

After a referral
After a reorder or rebooking
After a positive social media tag

Ask Open Questions- Avoid asking for the review outright. Instead ask questions that gauge the level of satisfaction with your products or services. "How did you enjoy your stay?" is a great way to judge initial satisfaction levels and can avoid the awkward mistake of encouraging a negative public review. After a recent shopping trip to Target, where I used my CartWheel to checkout, I was sent this email. A rating scale can be a great gauge of satisfaction levels and can lead to a more honest review of your customer's experiences.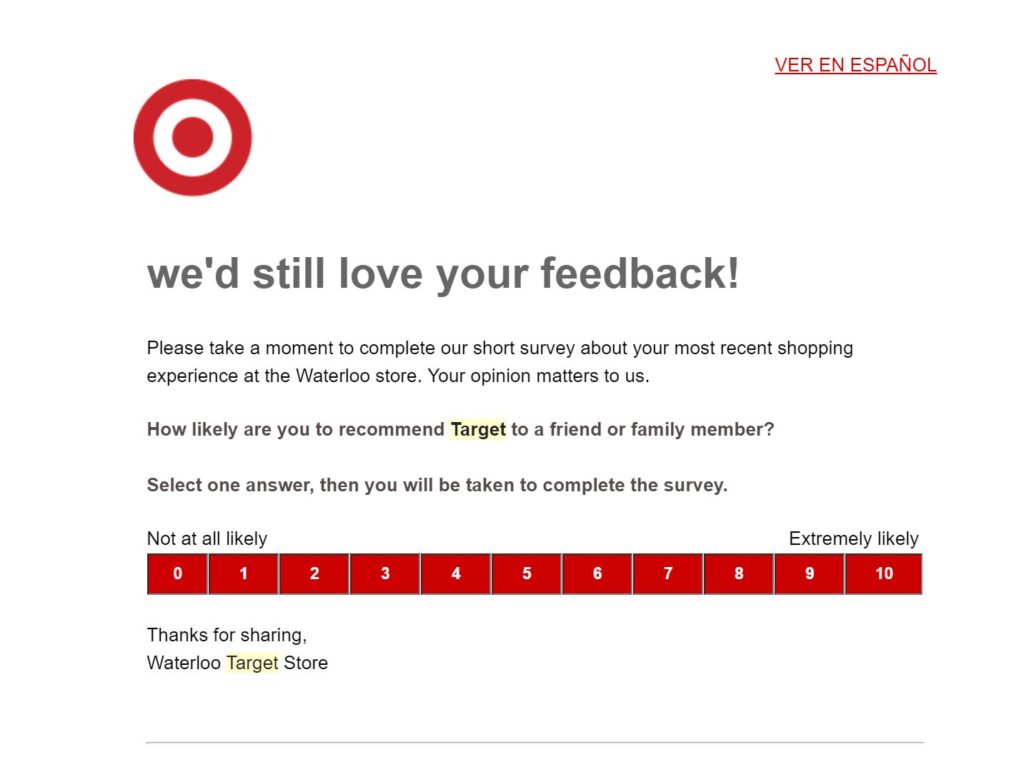 SHARE! Acknowledge your customers and thank them for their time in reviewing. Share positive reviews on your website or social channels to encourage others to write their own reviews.
There are many other ways to encourage and facilitate positive reviews, but most importantly, stay with you customers throughout their journey. Don't wait until the end of their experience to do damage control. The squeaky wheel just needs a little extra attention.