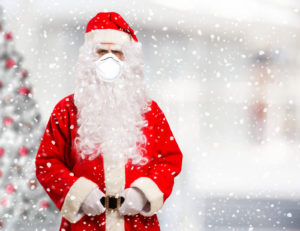 It's difficult to imagine shopping for scarves and sweaters in this sweltering summer heat; however, the holiday season is right around the corner! Unfortunately, it looks as though we may be celebrating Christmas Corona-style this year.  Retailers across the globe are facing a host of challenges in the aftermath of lockdowns and the impending uncertainty of the fall and winter months. Many retailers have concerns about supply chain issues, temporary staffing, securing their online presence, and ensuring excellent customer experiences, both online and in-person.  If we have learned anything over the past six months, it's that businesses must be digitally ready for whatever is to come to remain competitive.
How can retailers prepare for this busy season amidst all of the chaos? In February 2020, as COVID took hold of the US, eMarketer predicted the 2020 holiday season total retail spend to increase by 3.4% to $1.042 trillion and E-commerce spend to increase by 13.9% to $156.69 billion. Will these predictions hold up in the era of Coronavirus? Could E-commerce exceed expectations as brick-and-mortar retailers are forced to impose COVID protocols on in-store customers?  In order to answer these questions and more, let's carefully review pre-pandemic 2019 holiday statistics to provide us with insights as we prepare for what's ahead.
General Holiday E-Commerce Statistics
2019 was the first holiday season to pass the trillion-dollar mark in retail sales. Brick-and-mortar retail and e-commerce spending totaled $1.007 trillion. (eMarketer)
Brick-and-mortar revenue comprised $869.4 billion of the total season's revenue, a growth of 2.4% year over year. (eMarketer)
Online spending in the U.S. increased by 13.1% with a total of $142.5 billion spent. (Adobe)
When asked how they'd split their holiday shopping, consumers indicated they'd use the following channels:
Average daily sales totaled $2.3 billion. Every day netted over $1 billion in sales with the exception of Christmas Eve, which brought in $850 million. (Adobe)
Thanksgiving 2019 posted $4.2 billion in sales in the U.S. alone. This was a 14.5% increase from the previous year. (Adobe)
Black Friday 2019 sales totaled $7.4 billion in the U.S., making it the second most profitable day of the season. It was a 19.6% increase from 2018. (Adobe)
Cyber Monday 2019 had the highest single-day sales in history, totaling $9.4 billion. This was a 19.7% increase from last year. (Adobe)
There were $2.8 billion in sales made between 7 p.m. and 11 p.m. on Cyber Monday. More money was spent in this four-hour timeframe than the average day's sales during the holiday season. (Adobe)
The five-day Cyber Week (Thanksgiving to Cyber Monday) brought in a total of $28.5 billion in the U.S. (Statista)
$1 of every $5 spent online during the holiday season took place during Cyber Week, an 18% increase from the previous year. (Adobe)
Holiday Shopper Spending Trends
In 2019, 89.29% of Americans planned to buy gifts during the holiday season. (Finder)
82.3% of consumers planned to shop primarily with Amazon for their holiday gifts. (Statista)
On average, consumers distributed their holiday spend between the following:
The average family spend over the 2019 holiday season was $1496. (Deloitte)
60% of all holiday sales came from big spenders (those who spent over $2100). (Deloitte)
Early-bird shoppers spend more on average. Consumers who do holiday shopping before Thanksgiving spend nearly $400 more than their later counterparts. (Deloitte)
Spending habits change based on where people live. For instance, urban shoppers planned to spend $843 while rural shoppers planned to spend $636. (NPD)
The most popular categories to spend money on were:
Holiday shoppers don't just spend money on gifts. They also spend money on socialization:
60% of holiday shoppers start buying Christmas gifts before December 1. (Statista)
However, the average holiday shopper in the U.S. has 53% of their shopping still remaining in December. (Think with Google)
Only 26% of shoppers complete their holiday shopping before Cyber Week. (Think with Google)
33% of consumers will hold on buying holiday gifts until there's a sale. (Think with Google)
Multichannel holiday shopping is more and more becoming the norm with:
In 2019, BOPIS (buy online pick-up in-store) purchases grew 35% year over year. (Adobe)
In the seven days before Christmas, BOPIS purchases were 55% higher as last-minute shoppers rushed to get their gifts. (Adobe)
On average, BOPIS carts end up with 2.4 items with a value of $46 as opposed to the 2.9 items and $54 value of e-commerce only shopping. (Adobe)
Holiday Shopping Statistics by Device
While shoppers use a variety of devices during the holiday season, e-commerce spending was split unevenly among them:
Of the total $142.5 billion in U.S. e-commerce sales, $64.29 billion came from mobile shoppers. (Statista)
Year over year, smartphone traffic was up 14%. (Adobe)
Smartphone sales were responsible for 84% of e-commerce growth during the holiday season. (Adobe)
Despite more order completion on desktop, the holiday shopping process starts on smartphones two-thirds as frequently as they do on desktop (Adobe)
On Christmas Day in the U.S., 67% of visits and 48% of online revenue came from smartphones. (Adobe)
Holiday E-commerce Marketing Statistics
49% of holiday revenue generated by email came from smartphone users. (Adobe)
64% of holiday revenue generated by social media came from smartphone users. (Adobe)
23% of consumers use social media to help with their holiday shopping. (Deloitte)
The 3 most popular uses of social media for holiday shopping are:
81% of consumers expect to be swayed by holiday promotions. (Deloitte)
As far as promotional incentives go, consumers prefer the following:
61% of consumers are willing to share their personal information in exchange for better promotional offers. 34% prefer faster customer service while 31% prefer faster checkout. (Deloitte)
Consumers want the following assistance when shopping on websites and apps:
79% of shoppers are willing to buy from a new retailer over the holidays. (Deloitte)
Holiday shoppers say the following can sway them to buy from someone new:
In general, holiday shoppers are motivated by the following:
Finally, Retail experts believe that the coronavirus may do a lot of good for e-commerce sales in the future, especially for mega e-commerce companies like Amazon. However, there's debate over whether it'll impact the 2020 holiday season or if it'll start in 2021 (DigitalCommerce360).
These statistics offer key insights into consumer behaviors that will assist you in planning your holiday season.   Consumers want variety and convenience at a good price, and they want it right now. Do vistors have that experience when visiting your website now?  A solid digital marketing strategy ensures that your website is fully optimized, you're reaching your target customers, and they're buying from you over your competitors.  Targeted ads through social media, connected TV, and streaming radio platforms will put your holiday promotions, discounts, and special offers in front of your ideal audience. Tracking every dollar and receiving a decent return on your investment is important to your bottom line, especially now. Investing your ad dollars in proven digital marketing tactics will give you measurable results.  If you need any assistance in preparing your website or digital marketing strategy for the upcoming holiday season, our experts at KeyMedia Solutions are dedicated to helping your business succeed.  Contact us today for a free consultation and let us help make this your best holiday season yet!
Resources: https://websitesetup.org/holiday-ecommerce-marketing-statistics/