Most brands concentrate their email marketing efforts on promotional emails and discounts. Subscribers expect the same rusty messages in their inboxes. This leads to the dismissal of emails—subscribers ignore, delete, unsubscribe, or worse—report emails as spam. As a result, companies miss powerful, direct connections to customers. A customer should want to read a brand's email, not just search through their inbox trash folder for deals at checkout.
Making memorable emails is hard. Getting creative can be challenging, and it can be tough to sell and manage a unique email marketing program. But wouldn't it be nice to deliver a "must read" to a customer's inbox?
Three Key Components for Email Marketing Success
Before generating and trying new ideas, make sure to have business goals, branding guidelines, and customer research in place. These three key components help ensure a brand's mission, goals, look, voice, and community are at the program's forefront.
Goals: Always tie everything back to your brand's greater goals. This will help you focus on what types of emails and messages should be considered and help pinpoint where your brand may be missing opportunities.
For example:
Company: A b2c independent bookseller
Business goal: Boost return visits
The email: Emphasize the importance of customers reviewing their purchases and then from there, suggest other books customers may enjoy.
Company: An accounting software company with a free trial
Business goal: Convert more customers
The email: Focus on clever onboarding that uses animated gifs to show customers how easy the software is to use.
Branding Guidelines: Let's be honest: Being creative with a brand can be downright intimidating. However, most companies do have branding guidelines for both design and voice. These guides cover important aspects of a brand, including appropriate colors, look, feel, and word choices. They assist in making sure branded terms are spelled correctly and logos aren't abused. Some guides are long and in-depth, while others are only one page. Branding guidelines should be flexible, living documents, but they serve as a lifeline while in the deep end of creativity. Check out some great branding guidelines, shared online, from UC Berkeley, Mozilla, American Heart Association, Blackberry, and MailChimp.
Customer Research: Know what your brand's customers are looking for and what they're into, and attempt to predict what they may also enjoy. While there are many ways to go about audience research, most brands already have a lot of data at their fingertips. For e-commerce sites, a brand knows what customers are purchasing, where they live, and more. With basic website analytics, it's easy to gauge popular content. This type of data is a goldmine. For example, a b2c outdoor clothing brand may find customers make extremely high-dollar purchases on safari clothing in the first quarter of the year. They can then make sure emails highlight this type of clothing as well as feature safari tips.
If you don't have enough data, surveying your audience is easy. Tools such as Wufoo, Polldaddy, SurveyMonkey, and even Google Document's forms are simple to use. And for the company looking to level up, try Qualtrics, Qualaroo, or Foresee. To further drive customer research, a brand can develop personas and use them to classify audiences, break down psychographic variables, and then build email marketing around them.
With key components and knowledge in place, it's time to decide types of emails and creativity. At this point, lay out every single email already sent by your brand in order to decide what to revamp, where there may be gaps, what's outdated, etc. Depending on how many emails your brand sends, it may be important to focus on one type of email at a time.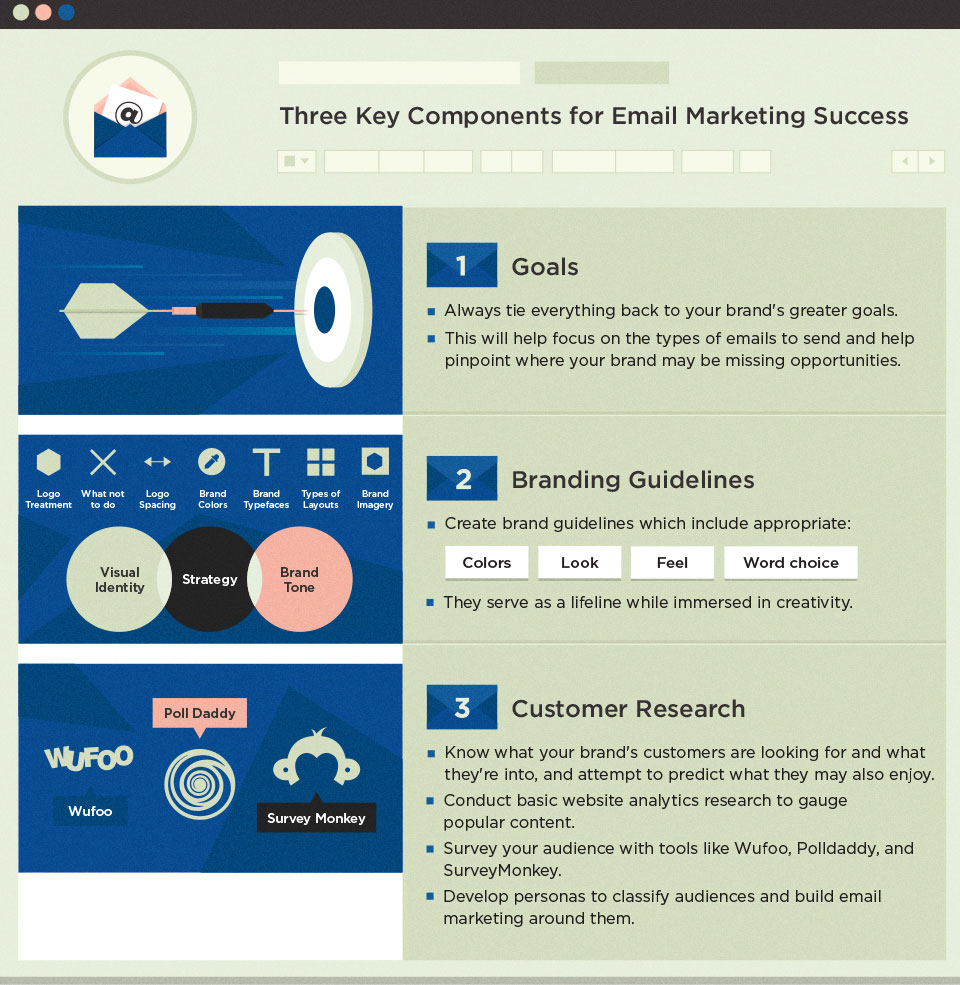 Five Major Types of Emails: Onboarding, Subscriber, Promotional, Transactional, and Behavioral
Onboarding: Onboarding emails are traditionally sent to a new customer or community member. However, emails asking a customer to come back or offering an upsell are also included. Onboarding is extremely powerful, and a person's response to those emails can decide whether or not they're going to become a lifelong customer. If you only have seven seconds to make a first impression, how will your brand's first email marketing impression look?
When brands get onboarding right, they win customers for life. For example, the b2c fashion styling service Stitch Fix lays out their next steps for customers simply and smoothly. They use minimal decoration, but elegant font choices to set customer expectations about their service.
Brands want to make sure onboarding tailors to customers' needs and concerns. B2b screenshot software brand Snagit realized some customers don't trust download links on websites. So they will also send more nervous customers download links in email as an additional trust signal.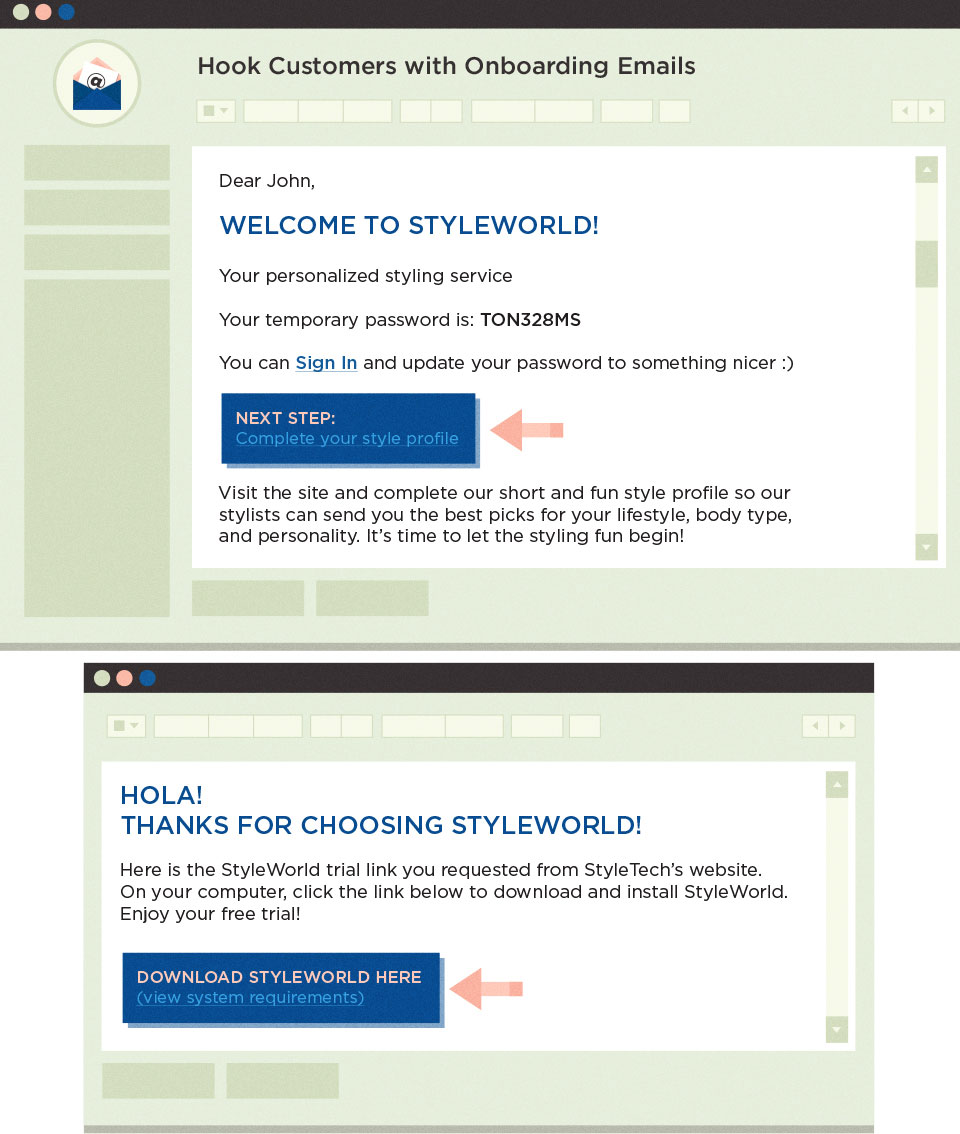 Subscriber: Subscriber emails are a form of regular brand communication such as newsletters, new product announcements, blog posts, roundups, etc. Engagement with an audience on these can be tough. Often subscriber emails come across as too brand-centric and don't directly help customers. Additionally, these highly customized emails may prove challenging to send regularly (in terms of time and resources). But they can build an incredibly strong brand connection.
Newsletters take time, effort, and love to produce—or they take smart automation. Goodreads, a social network for people to share what they're reading, does a great job sending customized, timely emails to subscribers. The emails prompt subscribers to talk about what they're reading and display what friends have read. Friends' reviews and ratings are shown in-line with easy "Want to Read" buttons for subscribers to add these books to to-read lists. Subject lines prompt opens not with Goodread's brand, but with friends' names for personalized intrigue.
However, not every brand hosts enough content for a tailored newsletter. Curated roundups, either of recommended content on other sites or of a brand's own content, can be powerful. T-shirt brand Look Human, known for their tongue-in-cheek slogans, created a roundup of their products based on the colors of the rainbow. Additionally, they sent this in winter when customers may need a little colorful cheer.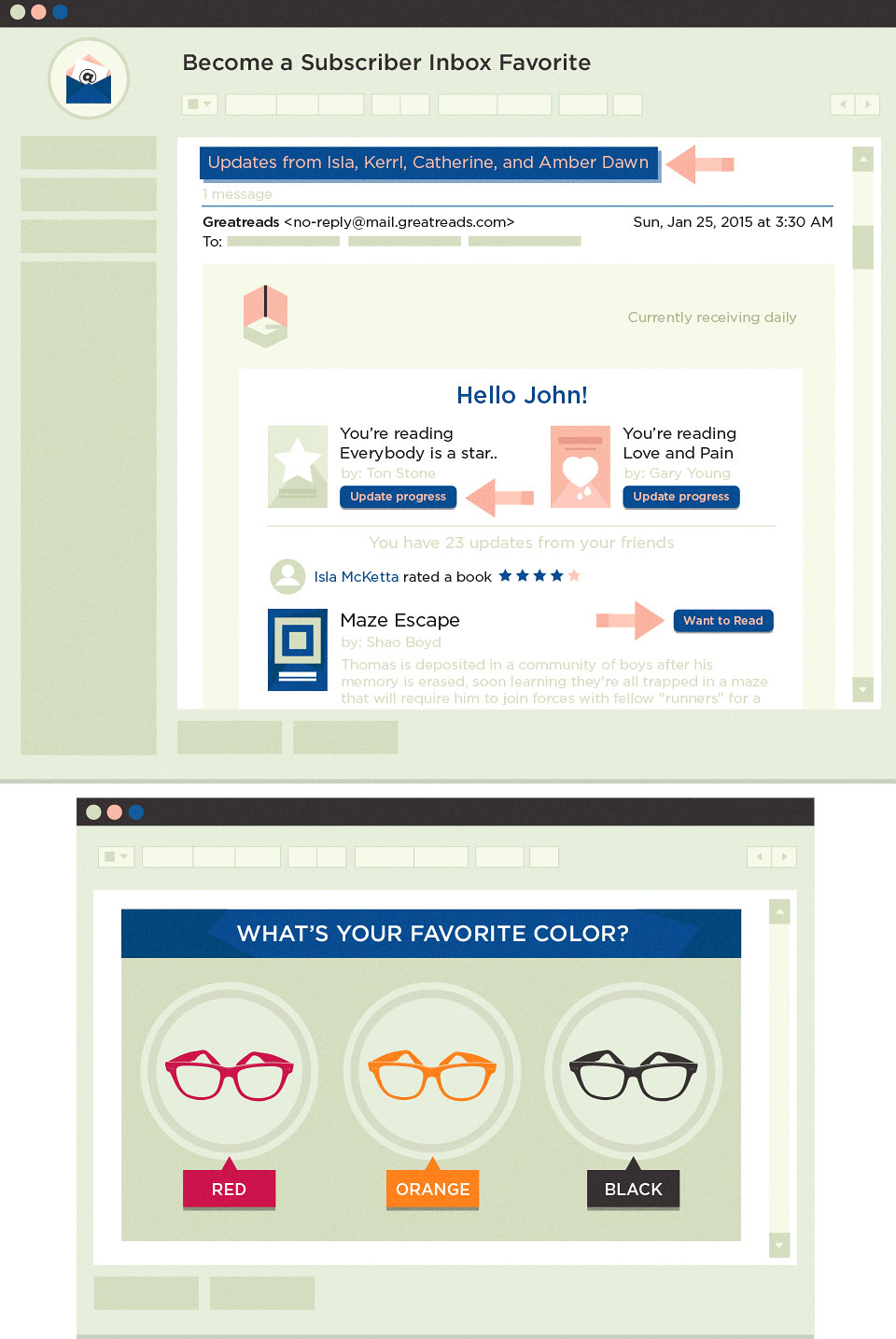 Promotional: As the second most common type of email marketing, promotional emails let customers know about sales, special offers, and upgrades. Promotional emails are a balance. For example, words like "win" or "sale" in a subject line attract high open rates. However, they can also trigger automated spam filtering from email service providers.
Subject lines for promotional emails are extremely important. Many brands have been incorporating click-bait subject lines, but it's important to avoid anything disingenuous. Mint, apersonal money management web app, recently ran the subject line—"Deduct up to $5,500 on your 2014 taxes." This certainly grabbed attention. The call-to-action inside was to sign up for a Roth IRA, which does indeed allow that much of a deduction for U.S. personal taxes for 2014.
While tempting to always send sale emails, there are many different ways to be creative. The hotel chain Marriott specifically targets business people in their email program. While they do regularly send sales emails, they know their market has other needs. In this "Did You Know?" style email, Marriott tells their audience they provide workspaces. The hotel chain uses imagery reflecting the on-the-go worker, who isn't tied to an office.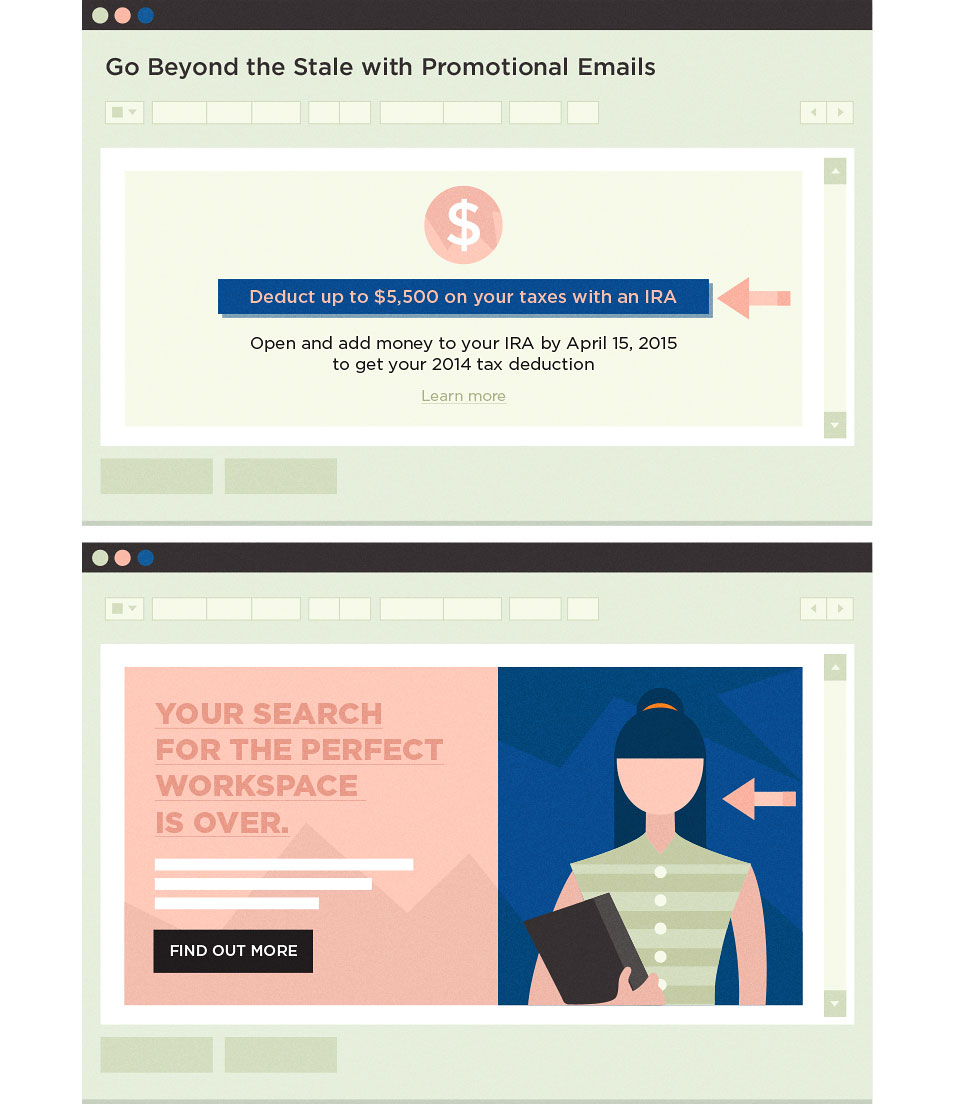 Transactional: By far, transactional emails are the most common type of email marketing. Unfortunately, most transactional emails are overlooked and not attached to an email marketing program. It's time to take a hard look at those transactional emails and what they say about your brand. From billing to password resets, every email affects how a customer feels about your brand. A brand that shows they care via a shipping confirmation email is heads-and-shoulders above competitors.
A brand can even get creative with receipts, while preserving the straightforward, clear purchase information. Online consignment clothing shop thredUP first shows customers how much money they saved by ordering secondhand apparel. While thredUp's company mission is to reduce clothing waste, they know in the purchase cycle most customers care more about their wallets.
Don't let consumer brands have all the fun. Recurring subscription billings can have personality too. Social media management tool Buffer sends their monthly billing receipts from their CEO Joel Gascoigne, which adds a personal touch. They also use casual language to show they are their customers' friend and prompt customers twice to email them with any questions.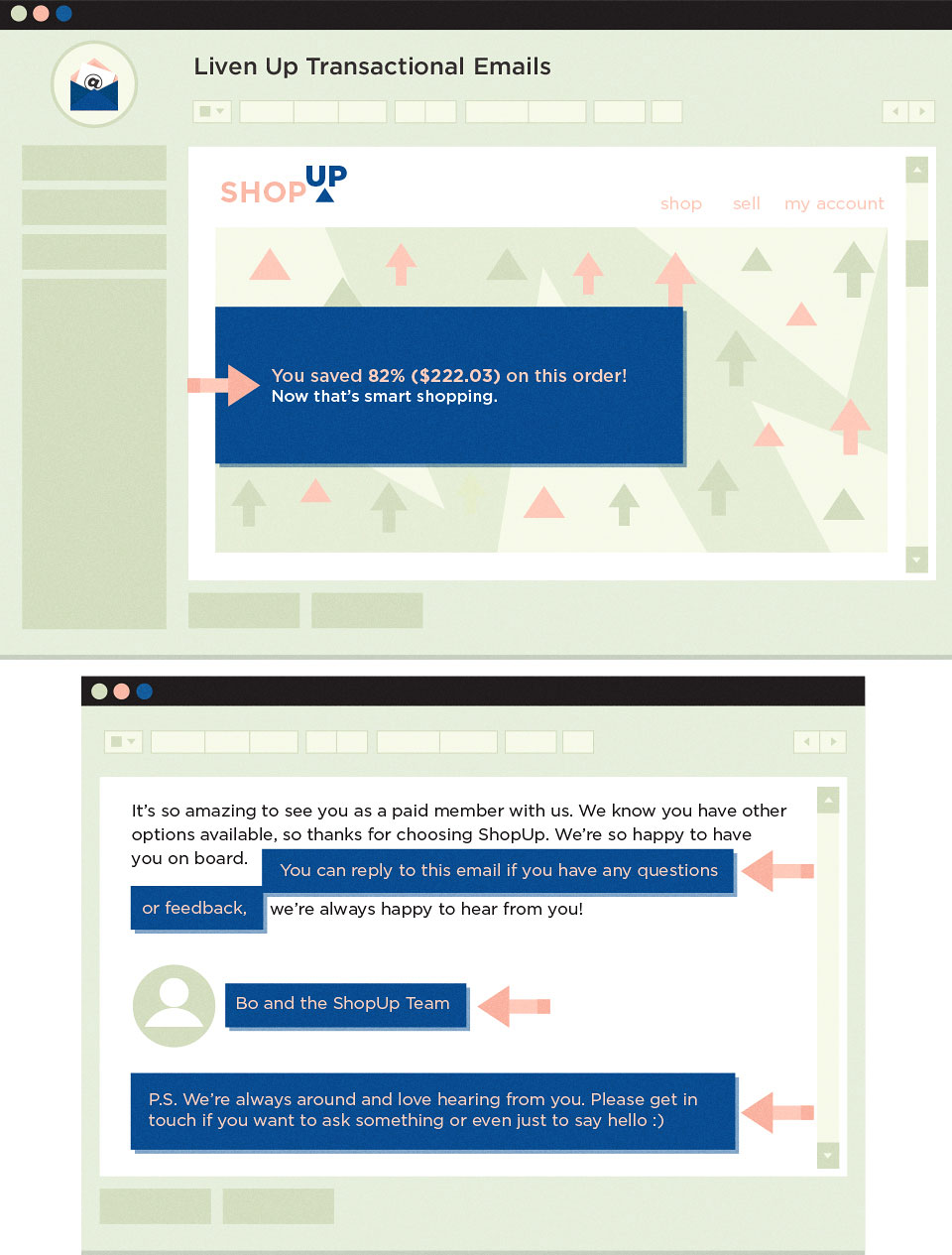 Behavioral: Behavioral emails are triggered by something a customer does or doesn't do on a brand's website. Unless a brand has marketing automation software or is dedicated to personalization and outreach, these can be challenging to pull off. Some different types of behavior emails include ones prompting users to review purchases to "happy birthday" emails.
Cart abandonment emails can be a powerful method to figure out why a customer didn't follow through with a purchase. They can also add an additional human element. thredUP immediately follows up cart abandonment with a personalized email from founder James Reinhart. He shares the story behind the brand and also solicits feedback about why the purchase was halted.
Behavioral email can also be about retention. Win-back campaigns work for marketers looking to improve retention by reminding customers to come back. Social media management tool Viraltag reaches out to currently-paying customers, who haven't logged in for a while. They aren't going to make more money in the short-term on these customers, but increased loyalty will make sure customers continue to pay their monthly subscription and use the tool.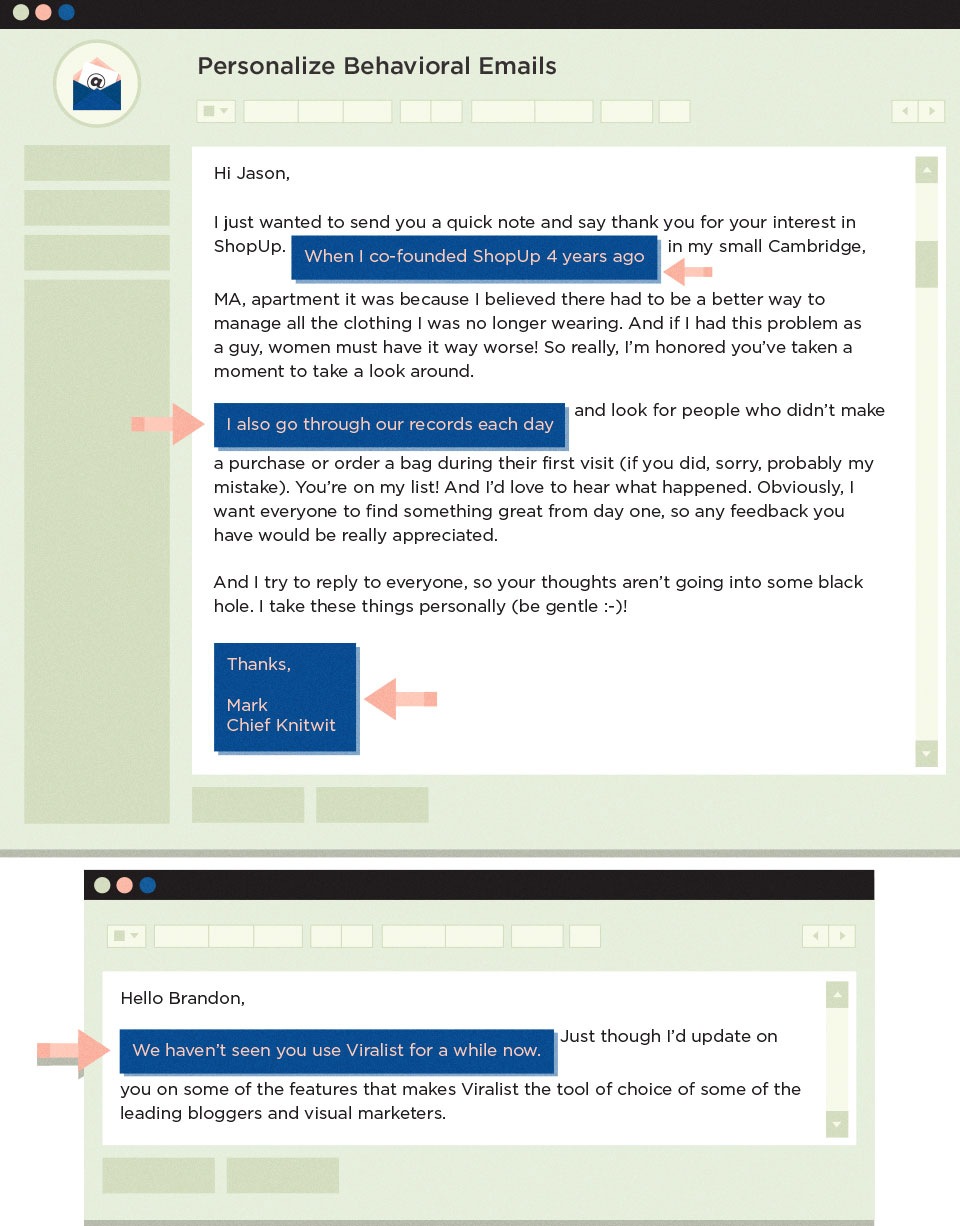 Now that emails have been inventoried and the email type decided on, let's iterate different campaign ideas.
Idea Iteration: Group Fun
Like we mentioned before, creativity (or collaborating creatively with colleagues or clients) can be intimidating. Not everyone is a quick thinker. Not to mention opening up to be imaginative— maybe even silly or ridiculous—can be frightening and requires a good level of trust between the group. However, there are some easy steps to take to help facilitate ideas, not leave anyone out in the cold, and ultimately generate a few great ideas.
Research for inspiration: Before any kind of meetings, pitches, or creative conception, conduct some research for inspiration. Look at what competitors are doing, if possible. See what you can snag and repurpose from brands beloved for their email marketing. Search on Pinterest and make an image board. Find phrases or quotes that encapsulate your brand. Figure out how to greet readers and how to say goodbye.
Bring a list, modularized: Write all that inspiration down. Prepare for the group meeting with confidence. But don't show up with the emails revamped and already completed. If tempted to do that, break down the content of an email into modules, or parts, and pull from ideas in each section. For example, make a list of words to use in subject lines and a separate list for body content ideas.
Converse and give critical feedback: Ideally, you will want to walk away with three to six solid creative ideas for your program. Critical feedback is important for a group to work well together. This doesn't mean you should stomp all over someone's ideas; instead ask critical questions to address how it may work better or if it should be included in the top contender list. Some groups may adopt techniques like Bernd Rohrbach's 6-3-5 Brainwriting where six participants come up with 108 ideas in 30 minutes.
Put down the best ideas first: Laying out the ideas you're most passionate about can be intimidating. Your heart can be on the line. Often best ideas are larger projects, which can take more selling and teamwork in order to pull off. But they can pay off in the end if you become the favorite newsletter in someone's inbox.
Test, Polish, and Test Some More
Armed with ideas, it's time to put them to work. You should test each idea, iterate on it, and test some more. Creative email campaigns aren't a static project to mark off the to-do list. Customers and brands need change. Continue to be inspired, generate ideas, and make email programs better and better.
This post originally appeared on blog.surepayroll.com/design-email-marketing-program