Many businesses make the mistake of equating a company website and Facebook page with a digital marketing strategy.  However, just having a website is as much of a strategy as placing a billboard in the middle of a cornfield.  Now more than ever your company must be easy to find and remain at top of mind for your customers.  This means getting your brand in front of the right audience with the right message at the right time.  Do you know where your ad dollars are going or if you are getting a good return on your investment?  What tactics are the most successful at connecting you to your customers?  These questions and more can all be answered with a solid digital strategy.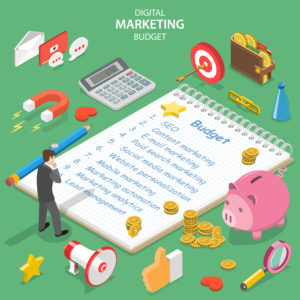 According to the U. S. Small Business Administration, 7%-8% of your total revenue should be spent on advertising your business and 50% of that amount allocated for digital marketing tactics.  Nevertheless, these recommendations were made before the pandemic.  Now a majority of consumers are staying out of retail locations, avoiding public spaces, even foregoing their morning commutes by working from home. With this planetary shift to virtual operations, shouldn't your marketing tactics shift too? Recent surveys reveal some businesses are now increasing the digital portion of their total advertising budgets to 75% due to COVID19.
Newly compiled data by Marketingcharts.com demonstrates how consumer purchasing behaviors have changed during the lockdown.  Some behaviors may be permanently altered putting many of our normal daily activities like grocery and other shopping, meetings, doctor appointments, and even daily workouts online.
After the threat of coronavirus clears, more than half of consumers surveyed by Valassis say they will make new shopping behaviors routine – whether those be grocery delivery (19% share), buying online and picking up in-store (16%), carrying-out from a restaurant (26%) or ordering restaurant delivery (22%). Source: Valassis.
From the start of the coronavirus outbreak, consumer behavior has changed. More than one-third (36%) say they have thought twice about making purchases, while the same percentage say they have stocked up on non-perishable items and water. Another one-third (33%) say they now purchasing more items online rather than going to a physical store. Source: MRI-Simmons.
Consumers around the world not only browsed for more goods online in April (1st-23rd) than they did for the same period last year, they also purchased more items. While categories like Business & Industrial (up 91%) and Toys & Games (up 90%) saw significant y-o-y increases in page views, they also experienced y-o-y growth in orders of 172% and 154%, respectively. However, the category which saw the greatest growth in order count was Hardware, which grew a full 342% y-o-y. Source: Bazaarvoice.
With consumers forced to spend more time indoors, their media consumption habits have changed. Now is the time to get your brand and message in front of consumers where they are – online.  If you are new to digital marketing, begin with an audit of your nonpaid media.  Review your website. Is your content relevant and updated?  Is your site user friendly?  Post regularly on your social media platforms and communicate with your customers through email.  If you traditionally place a bulk of your marketing budget into local TV and over-the-air radio ads you need to transition to streaming radio and OTT entertainment platforms as well as increase your paid search tactics.
As the coronavirus crisis continues, Millennials and Baby Boomers are saying they expect to spend more money on movie and TV streaming. Between Mar 6-9, 14% of Millennials and 13% of Boomers said they expected to spend more money on these services because of the virus. By Mar 13-16, that figure had jumped to 26% and 24% respectively. Source: Morning Consult.
It's not just streaming video consumption that is going up, digital site visits to government sources such as the CDC, NIH and WHO increased 425% between the first week of January to mid-March. Additionally, news site visits increased by 106 million, and top retail sites (Amazon, Target, and Walmart) visits increased by 74 million in that same period. Source: Comscore.
 A GlobalWebIndex (GWI) survey reveals that US respondents are not only spending more time watching news coverage (43%) but also spending more time watching shows and films on streaming services such as Netflix and Hulu (42%) as well as TV on broadcast channels (42%). Source: GWI [pdf].
While it may be too soon to tell the full impact of the virus on your business, it will be substantially less painful with a smart and sound digital marketing strategy.  Increasing your digital budget allows you to maximize every ad dollar by getting your product or service in front of the right audience with real-time measurable results. From online ad placement to email campaigns, every digital tactic is critical in providing a clear and reassuring message to your customers.
If you need assistance in maximizing your digital advertising budget, we would love to help!  We specialize in customized digital marketing strategies that generate results.  Contact KeyMedia Solutions today for a complimentary consultation.