If you are in the business-to-business (B2B) advertising realm, you may be one of the many businesses wondering how digital media efforts could benefit you; especially in a cost-effective and measurable way. Over the last few months, this has been one of the top questions I've received and more often made as the statement, "Online advertising is for consumer driven campaigns and doesn't work for B2B efforts."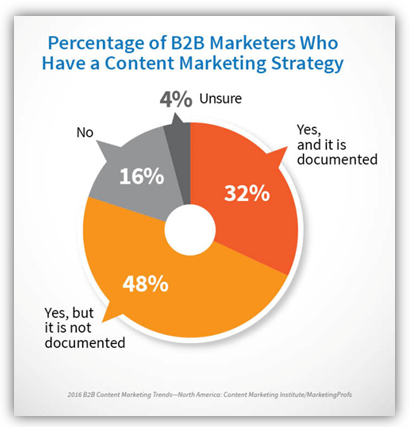 Well, I'm here to tell you that it does work. And works quite effectively when targeted correctly. Below, I've outlined five tactics that we've used to deliver measurable results for B2B campaigns. Keep in mind that each campaign is unique, and it might take some testing to identify the one or two tactics that work specific to individual audience and goals, but I encourage you to start with one or more of the elements below.
Strategize. Implement. Monitor. Analyze. Repeat.
Space
5 tactics for B2B campaigns
Content Marketing– Research shows that content is the backbone of successful online marketing. Firms that generate at least 40% of their leads online through a content marketing grow four times faster than firms that don't. The content can include web text, blogs, new releases, and product videos that provide information relevant to your products and services. Use keyword rich text and stories that will inform and entertain your buyers in a way that they will not find anywhere else on the web.
Social Media Marketing – Yes, Social Media Marketing can be a powerful resource for B2B campaigns. And is a helpful tool in distributing the content you're developing for your website, trade shows, and sale pitches. LinkedIn and YouTube often work better for this category, however, don't discount Google+, Facebook, and Twitter too quickly. If your buyers spend time with these networks, there are opportunities to engage with them and share your story.
Search Marketing (Paid and Organic) – Yes, for most businesses SEM can be affordable and effective in driving quality web traffic at an affordable price. The key is to look at long-tail keywords, technical terms that are specific to your industry, and accurate ad copy that will limit irrelevant clicks. For example, using broad match for "Internet services" as compared to modified match for "+business +Internet."
Video Marketing – I'm positive you've heard this before, but Video Marketing is the future of the web and that include B2B marketing. Use short-form videos to tell your story, feature new products, and show how to use your products. Once available, promote them to your core buyers through interests, industries, and buyer demographics. Narrow your focus to significantly reduce the video impressions served to consumers over business buyers.
Email Marketing – I hope that you are one of the 70% of businesses with an email marketing strategy. It's still one of the most effective tools in nurturing leads and educating existing customers. I would encourage you to examine your CRM funnel as if you're the end user; give them what they need; not what you want to sell. Then look at how often are your sending emails. What information are you including in your emails? Are you providing opportunities for your readers to convert?
If you approach your marketing strategy with a one-to-one mindset – meaning that you (a person) are wanting to engage with your buyer (also a person) – you'll be successful. Understand who you're trying to engage with, where they are when they go online, and what they're interested in. From there, simply plan your ad buy around them.
If you'd like to see how we do it, fill out the form below and take read our case study on B2B marketing.