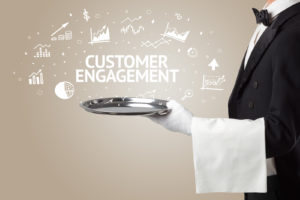 Customer-centric companies are 60% more profitable than companies that don't focus on customers. If you can answer who your business serves, you have identified your target market. If you can demonstrate how and why your business benefits them, you have found your target audience. Being real with consumers about who you are, what you do, and why it adds value to their lives creates a connection.
Deepen that customer connection by speaking directly to your buyer persona, don't just market to the masses.  Your messaging should be personal and speak directly to your customer like a one-on-one conversation.  Share with them what you do to solve their problems and fill their needs.  Demonstrate how you can make their life better by using empathy, humor, and compassion.  Most importantly, be authentic! Provide your clients with value content that is uniquely you and not something they can get from your competitors.  Carry your brand's voice throughout all of your social media.  Communicating through authentic emotion leads to increased customer engagement and creates brand loyalty between you and your ideal consumer. The top 10 most empathetic companies increased their financial value more than twice the bottom 10 companies.
Be THE EXPERT of your field.  Your customers look to you as an authority in your industry.  Provide them with content that is backed by evidence along with informational imagery (videos and pictures) of your knowledge and expertise. Content marketing costs 62% less than traditional marketing and generates about 3 times as many leads. (Demand Metric).   Utilize user-generated content in your marketing strategy. Flood your social platforms with videos and photos by customers using your products or services.  According to Photoslurp, user-generated photos are 5 times more likely to convert customers. These customer testimonials give your business credibility and build brand loyalty.
Corporate social responsibility is an important aspect of any business.  People want to know about the causes you support and the good you do for others.  Share with your audience your company's efforts to improve the communities in which you serve.  Does your team regularly volunteer together? Showcase that your business is made up of real people serving others.  Highlight your core values as an organization including teamwork, leadership, education, gratitude, etc. People love to be able to relate. Engage with your customers through social media outlets and ask what environmental or social causes are important to them.  77% of consumers view brands more favorably if they seek out and apply customer feedback.
Employee advocacy means using your own employees as spokespeople to promote your brand's message to the world. Brand messages are shared 24x more when they're distributed by the company's employees rather than the brand itself, as per a GMA report. Employees can be a source of high-quality content which is also most effective at reaching your target audience.
To connect with your audience, you need to know more that just their demographics.  You also need to know their psycho-graphics.  What makes your audience, your audience?  What are they looking for in your product or service and what can they expect throughout the customer journey?  Being relatable and authentic through your brand voice and intentional about your content and message resonates with today's consumer.  Seek out customer feedback and engage on social media to discuss what your customers are looking for and ways your business can deliver on those expectations.  Investing your time and effort into the audience you serve will give you the best return on your investment.